Please note that some of this post's links are affiliate links, which means if you click through and make a purchase, I may receive a small commission at no extra cost to you. SkinnySpending.co.uk is a participant in the Amazon Services LLC Associates Program, an affiliate advertising program designed to provide a means to earn fees by linking to Amazon.com and affiliated sites.
Last Updated on January 18, 2021 by Melissa S.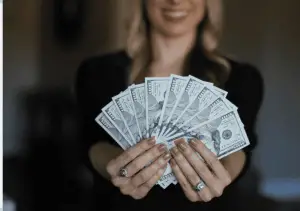 Photo by sallyjermain from pixabay
It may have been your goal for years on end to save money, but it's just not happening. Regardless of how much you "Save Up" at the end of the month, your savings don't increase. However, maybe your spending needs a closer look if you intend to save while on a tight budget.
Save Money Grocery Shopping
 Stocking on food and other food essentials is vital to eliminate binge eating chances, making you spend even more. When shopping, remember to make a list, so you buy the things that you need. When selecting items, pick store brand names instead of famous brand names, as they are often cheaper. Buy in bulk on items that you usually use frequently instead of one at a time. It's less expensive in the long run. However, be wary of buying too much and having it go stale as it's just as wasteful.
2. 
Renegotiate Your Car Insurance
 If you are a careful driver with a good record, it may be time to contact your car insurance provider for a lower rate. Go a step further, compare and contrast car insurance rates from different companies. In the end, you will be signed for the best deal in the market. With companies competing for clients by lowering their rates, you might secure a perfect insurance rate to help you save more.
3. 
Declutter and Sell
 When you were buying that coffee maker, you were sure that you would make a pot every single morning. However, four months down the line, you have only used it twice. Why not go ahead and get rid of it? When decluttering your home, you will feel liberated and still make some money from the sale. Embrace a minimalist lifestyle as the amount you save quickly adds up enough for a down-payment for your first apartment. In the end, all you will need might be bridging loans to cover unexpected expenses.
4. 
Save First
 When looking for ways to save money on a tight budget, paying yourself first should be the first thing. Do this, regardless of how little you think you earn. If you manage to save at least 10% of your income, you will have a considerate amount that can be used wisely in the future.
5. 
Review Your Budget
 If you have been tracking your expenses to the last cent for a few weeks now, make sure you review your budget every few weeks. Review your accounts to remain on track to meet your savings goals. The best part is that you will be able to see where you spend most of your money and if it needs a little tweaking. Be cautious to not over review and get demoralized on the little gains you are making.
Conclusion
While saving money on a tight budget, it's important to set money aside to spoil yourself. However, this should also be budgeted. This way, you get the best out of both sides and enjoy life to the maximum but within your limits.