Please note that some of this post's links are affiliate links, which means if you click through and make a purchase, I may receive a small commission at no extra cost to you. SkinnySpending.co.uk is a participant in the Amazon Services LLC Associates Program, an affiliate advertising program designed to provide a means to earn fees by linking to Amazon.com and affiliated sites.
Last Updated on September 10, 2021 by Melissa S.
This post contains affiliate links. This means that I may receive a small commission
Although this includes some businesses I am already an affiliate or Brand Ambassador for, I have also included some of my personal favourite small businesses and also reached out on social media in order to help promote small brands.
Personally, I am going to be using small businesses and the high street as far as possible for my Christmas shopping, and I really encourage you to do the same. With that in mind, here are my top picks from small businesses this Christmas.

I absolutely love this brand based in my hometown of Cleethorpes. If you are local to the area, you can find Minimo Jewellery stocked at House of Harriet, Seaview Street. Or you can check out the Etsy shop on the link above.
Here are my 3 favourite pieces from the shop:
Recycled Cotton Bracelet – £30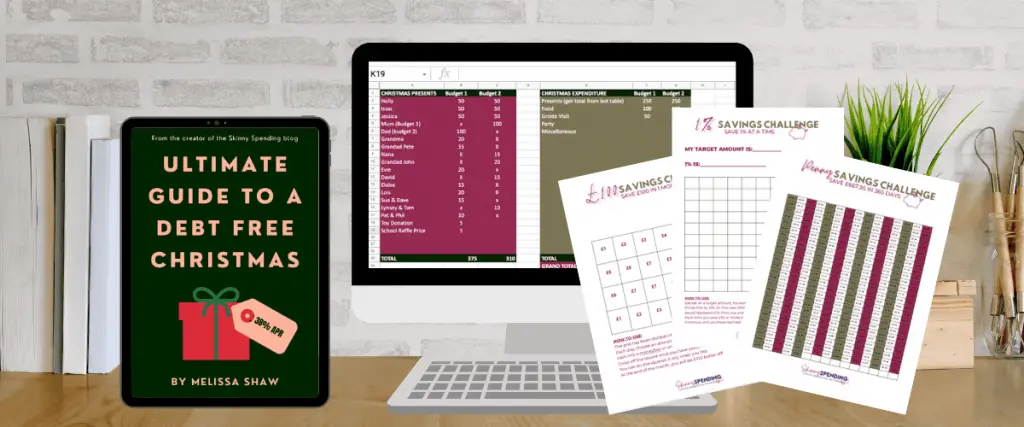 WANT TO TAKE THE STRESS AND THE DEBT OUT OF CHRISTMAS FOR GOOD?
With my comprehensive Ultimate Guide To A Debt Free Christmas e-book and budgeting system, you can say goodbye to the stresses and spiralling expense of Christmas.
I love this brand for all things retro and pop culture! They have a range of unique products to suit fans of Star Wars, Disney, Beetlejuice and Hello Kitty to name but a few. Here are my favourite picks from the shop, at prices to suit most people's budgets when buying for friends. (I'm thinking £20 and under.)
Pusheen Lunchbox  – £7. So cute I might buy this for myself!
Hello Kitty Pop! Vinyl Figure -£10
Star Wars Coasters – £10 – Quirky coasters like this are one of my favourite cheap and fun ways to add a bit of character to a room!

BlowLTD are a unique hair & beauty at home service, where you can book a salon grade treatment in the comfort of your own home. They also offer an online shop, and currently you can get 20% off your first order with the code SHOP20.
**BLACK FRIDAY UPDATE*** For a limited time you can get 35% off with code BF2020
Treat a friend or family member to a beauty treatment at home with a BlowLTD giftcard – you can choose your own amount and this way the recipient can pick and choose a treatment and date to suit them.
A beauty box would also make a great gift idea. I love this "Me Time" beauty box, worth over £70 which is just £24 after the discount code is applied.
You can pick up some very affordable treats from bath salts to mystery boxes, all with a zodiac theme. These would make great gifts for any zodiac lover!
Balmonds SkinCare is a UK based Skincare brand that uses 100% natural ingredients. They are particularly effective for those with skin conditions and sensitive skin, but are even suitable to use on babies. I first discovered the brand when treating my daughter's eczema. It proved to be so effective that it has since become one of my go to brands.
This Travel set would make an ideal gift and currently you can save a massive £19 PLUS 20% with my exclusive discount code (see below).
This all natural starter set is another great gift idea with a current saving of £15.00 PLUS 20% (see below).
EXCLUSIVE OFFER FOR MY READERS – 20% off at Balmonds Skincare with code SKINNY20 (enter at checkout)
Money Mum is a fellow UK Money Blogger and she has a range of educational printables over on her Etsy shop. What's more she is offering a 15% discount code for my readers. Apply code MSS15 at the checkout until Jan 31st.
Grace Etc make hand poured soy candles in a range of exotic scents on Etsy. At just £10 an item, they would make ideal Christmas gifts. I really like the sound of this Rooftop Bar fragrance.
Related Posts
Product: Ultimate Guide To A Debt Free Christmas
How I save for Christmas Without Even Noticing!
How I saved £250 on my Christmas shopping 
Six Things I Stopped Buying To Save Money At Christmas
Get The Best out of Black Friday (And avoid the worst)