Last Updated on November 6, 2020 by Melissa S.
How You Could Save Hundreds on the Cost of a Mobile Phone
Please note: Although this post contains some affiliate links I am not affiliated with Three and have received no sponsorship from them for this post, I am purely recommending their offers based on my own experience.
Hands up if you have ever taken out a mobile phone contract which includes the cost of a smartphone built in…(my hand is raised). Hands up if, towards the end of the contract, you start to look out for what you can upgrade to next – sure, the phone will be practically identical – you might go for a different colour this time, the battery might be better, or it might be slimmer, but for all intents and purposes it is the exact same setup with the same apps and features, heck, even all your contacts and messages get transferred over…yes, I have been guilty of this too.

It might sound like an obvious point, especially if you are already trying to save as much money as possible, but it never ceases to amaze me the number of people who upgrade their mobile phone as soon as they are eligible. Often, these contacts can be upwards of £40 a month for 2 years, which a quick calculation can reveal can be around £1000!
Granted, as these contract prices include the cost of a brand new smartphone, as well as data, calls and text allowances, so initially it can be a good way to spread the cost of a new phone rather than buying one outright. But for those nearing the end of their contract, if you would like to save a substantial amount of money, ask yourself if you really need to upgrade?
We'll come back to this point in a moment though. As first I want to address something even worse than upgrading and being tied into a brand new £1000 contract. And that is doing nothing at all. And I am ashamed to say I have been guilty of this in the past! Maybe you are happy with the service, maybe you are holding out for a new model you know will be released in a few months, but in any case you should still change your contract to sim only as soon as it expires.
Think about it – the monthly £40ish cost includes all your texts, minutes and data, but a substantial amount of this figure is to spread the cost of a £600-£700 smartphone over 2 years. If you continue to pay your £40 bill for months after your contract has expired, you are massively overpaying for a service as your phone is already bought outright. It would be like continuing to pay for your car or a loan repayment months after it was cleared.
What is a SIM only contract?
For anyone who is unsure, a SIM only contract is exactly what it says – you just pay for the calls, data and texts rather than the cost of a phone. But obviously, you need to supply your own phone.  Because of this, they are a much cheaper option and some offer much greater allowances than the phone contracts.
For example, my 2 year monthly contract payment for an iPhone 6S with Three was £43.00 a month. That is a total of £1032, or £512 per year. This included unlimited texts and calls but only 2gb of data. (Three used to have "all you can eat" data but this changed and I massively noticed the difference!)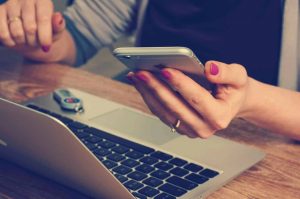 Towards the end of my contract, I had a lightbulb moment that actually I didn't need to upgrade just because it was an option. After all, what other £600+ household appliance would you expect to get 2 years of use from before upgrading to something newer for the same cost? I can't imagine many people doing that with a TV or washing machine, especially if it is still in perfect working order!
Back in the early noughties, when phone contracts were often only 12 months, the differences in the models available within that 12 month elapse were staggering. We went from phones whose greatest capability was playing Snake, to flip phones, colour screens, polyphonic ringtones, camera phones and finally smart phones in a relatively short span of time. People literally could not wait to get their hands on the next model and in those days with fairly good reason. But I don't think that upgrade instinct has ever gone away for a lot of people, and of course the phone companies want us to think this way. And what do we get these days? A practically identical phone! If you stick with same brand, such as Apple, all of your apps and contacts etc are downloaded across too. Obviously this is very helpful in one sense but it dampens the excitement of a new phone even further when you've even got all your old texts and photos going back to 3 phones ago.
In fact, if you put my 6S next to my husband's iPhone8 there is barely a difference in the appearance. And of course, the software updates make the changes rather than the physical phone, so the latest app functions are always available to older models. It's a far cry for the days when you would scrabble to see what games and ringtones your new Nokia had built in, as you knew you were stuck with them for the forseeable. (Does anyone even change their ringtone these days?!)
This is why I took the decision not to upgrade my iPhone 6s last December. In fact as soon as the contract was paid off I couldn't wait to downgrade to SIM only. Three, who I have been a customer with for 10+ years, have some excellent sim only deals and I now pay £13.50 a month for unlimited texts, calls and 12gb of data. This deal also comes with the benefits I enjoyed on my contract plan such as "Go Binge" (Unlimited data for apps such as Netflix) and free data roaming abroad (Feel at Home).
It is worth mentioning that this is a 12 month contract as I was so sure that I would not want to upgrade any time soon, but if you don't wish to get tied in to another lengthy stint then there are month to month plans available too. Obviously the contracts offer better deals but my advice is shop around online, go into the branch or ring the customer services and see what they can offer you (just don't get suckered into a new phone again!).
But what about battery life/performance?
I have to admit, my biggest problem these days is the battery life of my phone. I'm lucky that most days it will get charged in the car as I drive to and from work, but the rare times I am catching the train for a day or night out I would be lucky for the battery to last even if I don't use it much. And obviously the possibility of missing a train home / losing your group are the times when you need it most!
Luckily, there is a "Battery Health" feature on the iPhone settings, and this has indicated to me my battery does need replacing at the Apple Store. If I was within my 2 year warranty this could be done for free, but instead it will be a reasonable charge of £25. The app itself guides you through to book in an appointment at a nearby certified Apple repair shop, or it can be sent away if you don't live near one. I am hoping that this will rectify the problem and breathe life back into my 2 and a half year old phone at the cost of only £25. I will update when this has been done.
For a backup I have also bought this awesome 10000mah powerbank as I like the idea of this having a dual purpose as a makeup mirror rather than just carrying something extra around. This is the best price I have found for such a powerful model.
Purely for cosmetic purposes rather than performance, if you're sticking with your old phone for a while longer, a new case could be just the thing to give it a new phone feel for a fraction of the cost.
So there we have it. If you were thinking of upgrading your phone in the near future, has this made you think again? Are you out of contract and suddenly realised you are still paying over the odds? Please let me know in the comments if I have helped anyone save some cash!
I'm taking part in the Monday Money linky with Lynn from Mrs Mummy Penny, Faith from Much More With Less and Emma from EmmaDrew.Info