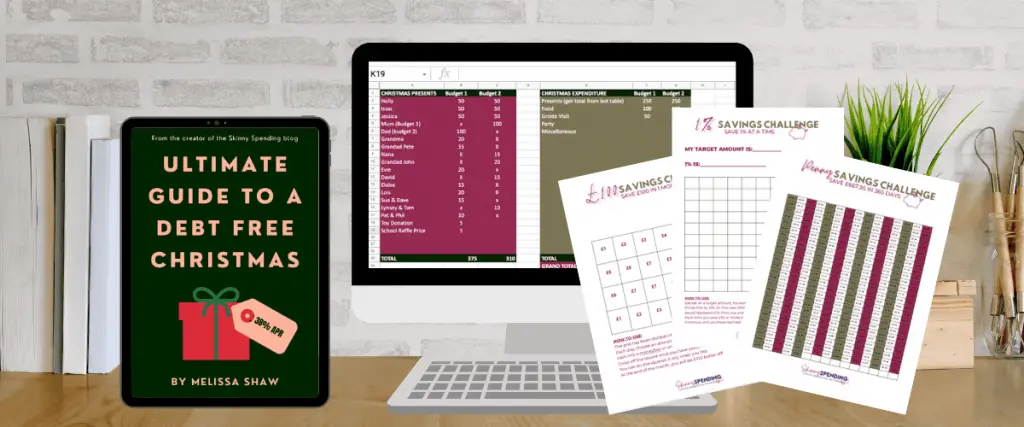 DOES THIS sound familiar?
Despite your best intentions, do you suddenly find yourself in November with NOTHING budgeted for Christmas?
Do you find yourself panic buying last minute Christmas items to realise you don't actually know how much you have spent, who you have yet to buy for or if you've missed anything?
Do you loathe the last minute Christmas supermarket trolley dash or online grocery order that arrives on Christmas Eve with 15 substitutions? 
Have you had to turn to credit to get through Christmas, and then face months paying it all off?
IT'S TIME TO STOP AND TAKE BACK CONTROL OF CHRISTMAS!
Say Goodbye to the stressful, Debt Laden, Unorganised Christmas.
How would you like to start December safe in the knowledge that your Christmas food shop is sorted, the presents are paid for, and what's more you SAVED money on what you usually spent?
With my Ultimate Guide to a Debt Free Christmas eBook & budgeting system, I can show you the exact strategies I use to ensure my Christmas is budgeted for all year round.
And no, I'm not one of those annoying, super organised people who start writing their Christmas cards in February. 
I am not going to tell you to buy all next year's Christmas gifts in the January sales either – that rarely works out well (unless your recipient is fond of 12 month old bathcare sets that didn't sell the first time round and now reek of loft insulation.) 
What I CAN do, however, is give you:
A budgeting system taylor made to your own income and expenditure
Hints and tips on how to maximise your Christmas shopping budget
A painless way to save for Christmas all year round
A fool proof system for spreading the cost of your Christmas food shop
Strategies to cut your Christmas budget, without sacrificing what you need
Smart ways to make extra cash for Christmas from home
But most importantly, the tools to have a DEBT FREE CHRISTMAS each and every year from now on.
What's Included: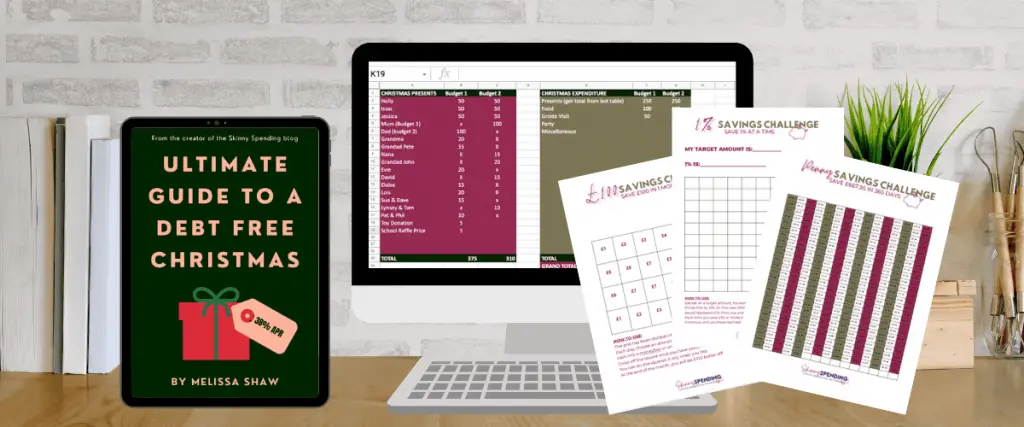 Christmas budgeting spreadsheet for Microsoft Excel or Google Sheets*
37 page, 7 Chapter eBook including actionable steps for each chapter;
12 month action plan to hit the ground running next year; 
BONUS Boxing Day & January Sales mini-guide;
BONUS Savings Challenge Printables
ALL FOR THE AMAZING PRICE OF £17 £9!
Yep, that's right. For less than the price of a bottle of Baileys, you could finally get Christmas organised once and for all and wave goodbye to that feeling of mid January dread when you see your bank or credit card statement.
*Think you don't have access to a spreadsheet program? Google Sheets is a completely free web based program accessible on laptops, PCs, tablet and even mobiles! Full details of how to access are included.
My Journey to a Debt Free Christmas…and life

As a part time working mum who took a £25,000 pay cut, I know first hand how much of a struggle Christmas can be.
In my old, higher paying job, I never needed to budget for Christmas. I was also not a parent at that point, so I had a lot less to organise personally for Christmas in terms of food, presents and entertaining guests.
Fast forward a couple of years and the main reason I took my pay cut was to go part time and look after my newborn daughter. As a family, we also started to host Christmas dinner or a family Boxing Day party each year and so suddenly there was a lot more to do and a lot less money!
I struggled with the costs of not just Christmas, but everyday essentials, and soon I was putting things on credit with no way of covering the cost. This became a viscous circle and I still shudder to think of how much interest was charged on some of those Christmas purchases.
Thankfully, when I began this blog I also began my debt free journey, and thanks to the help and advice from other finance bloggers I was able to become debt free under 18 months later!
I knew I never wanted to return to my old ways of having to rely on credit for Christmas, so I set out my plans. Now I save for Christmas all year round without noticing, and I'm going to show you how you can do the same.
I strongly believe that whatever your budget, everyone can have a debt free Christmas!
FAQs
Who is Debt Free Christmas aimed at?
Debt Free Christmas is primarily aimed at UK adults who have a lot of expense at Christmas and would like to manage it better. A lot of the people who fall into this category are parents of young children who wish to make these precious years magical – which unfortunately can lead to overspending.
But of course, to benefit from this product you don't have to be a parent at all, especially if you host Christmas dinner for 10 or have a lot of people to buy gifts for – the principles will work for anyone who wants to manage their Christmas spending more effectively.
A 12 month Christmas plan sounds scary – will I be singing Mariah in April and wrapping presents in June?!
Absolutely not! (Unless you want to of course!) Most of the actions in the 12 month plan are to do with budgeting and reviewing the money. Not all of the early months have an action at all, it's just the plan runs from January to maximise the budget.
The Christmas "actions" only really begin in October and November, and most are done by December!
Do I really need 12 months to take

advantage of this or can I implement it this Christmas?
This book will give you plenty of short term strategies to implement this year, but you will really be able to hit the ground running with them in the following year once you've had a taste for how it works.
If you're used to relying on credit for Christmas, and currently have nothing saved at all, I can't promise you a 100% debt free Christmas this year.
But I can help you reduce your spending, maximise sales and offers and find ways of earning extra cash. 
Hopefully this will drastically reduce the amount you have to put on credit, as well as implementing the full 12 month savings plan next year. 
For the price, I hope you'll agree it's worth taking a chance on to see how far you can get with it!
I don't have Microsoft Excel – how can I use the budgeting spreadsheet?
The budgeting spreadsheet can be opened using Google Sheets which is a FREE online program that works in your web browser. All you need to access it is to sign up for a free Google (Gmail) account. All the information about how to do this is included.
I've never used a spreadsheet before – can I just use the eBook?
Yes – you can follow the steps in the eBook to work out your Christmas budget and write out your budget on paper with a calculator if you prefer.
However, using the spreadsheet is simply a matter of inputting numbers and the budget is calculated for you, so it is a much easier process. 
I don't live in the UK – will this be relevant for me?
The budgeting spreadsheet system, strategies to reduce your Christmas expenses and savings challenges are relevant for all. (Although you will need to change the currency in the spreadsheet from GBP).
However, information about shops, sales, offers and cashback is all tailored to the UK audience, so these chapters may not be as useful to you.
Christmas customs obviously differ from country to country as well, so some things mentioned may not be relevant. (If you have to Google what a Christmas cracker is, this might mean you!)