Smarter ways to start clearing debt
Last Updated on May 16, 2022 by Melissa S.
It is fair to say that 2020 has not been kind to a lot of us, and currently there is a lot of uncertainty about the future of whole industries. The UK furlough scheme ends later this month, with millions of jobs at risk.
This is understandably a time of great stress and worry for many people, and if you are struggling with credit card or loan payments at this time, it is important to get help.

Get immediate help with overwhelming debt
Firstly, disregarding the rest of this article, if you are feeling overwhelmed by debt or struggling to make payments, speak to a free debt charity such as StepChange or PayPlan. Their advisors will go through everything with you in a step by step plan over the phone. They will act on your behalf when dealing with your creditors to come to a mutually agreeablesolution, reducing your monthly outgoings to a manageable amount.
It is crucial to ensure any debt charity is legitimate and free, as there are scammers at work posing as free services, or even impersonating the genuine firms.
Pay as much as you can towards your debts
Even with manageable monthly payments on credit cards or loans, we are not always aware of just how much the added interest may be costing.
This was my "lightbulb" moment and my first step towards becoming debt free. Following Dave Ramsey's baby steps, I put every spare penny I had towards paying off my credit card. I earned extra money through all of my side hustles. Some of them have become so successful that I now have a steady income stream on top of my part time job. Result!
Switch to a lower APR card wherever possible
Not everyone may be eligible for this, but it is definitely worth investigating using price comparison websites. The difference a lower APR can make can be truly amazing, even if just an introductory rate for a few months.

Use a payment calculator to check your costs
This handy credit calculator from Pigly is really effective at putting the last 2 points into action.
By inputting factors such as your balance, APR and repayments over a set number of months you can accurately calculate the cost of your credit, and compare with a second card's rates, or a larger monthly repayment. The differences can be truly shocking as the example below demonstrates.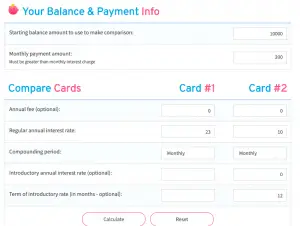 As an example, if you paid off a balance of £10,000 with an APR of 23% with £200 a month, this would take a staggering 168 months to clear, costing over £23,000!
Seeing the figures in black and white is often the wake-up call many of us need to take action on our debt – this was certainly the case for myself and the starting point to becoming consumer debt free last April.
Consolidate multiple debts
If you have several lines of credit, it may be worthwhile looking at if you can save interest by consolidating them into a single loan payment.
This is something that should be considered carefully to ensure you are getting the best deal. MoneySuperMarket have a handy guide about debt consolidation loans here.

Don't suffer in silence
The events of 2020 are something that no one could have predicted, so it is important not to be too hard on yourself if you are struggling with debt. Even with an emergency savings fund in place, many people have had to deal with reduced hours or job losses that their savings would not be able to cover. Getting help and taking action are the best things you can do to start your debt free journey today.