Ways to save money at Center Parcs
Last Updated on July 20, 2023 by Melissa S.

Wait…save money at Center Parcs?!
I know, the title of this is a bit of an oxymoron, as if you are on a tight budget then Center Parcs is probably not top of your list for a budget UK break.
However, the whole philosophy of my blog is to be able to enjoy the things you like and save money along the way. The parks are immensely popular in the UK, and I have been going since I was a teenager, both with my parents and brother and now with my own family.
So as a seasoned guest who is not fond of happily burning a hole in my wallet, these are my top tips to save money at Center Parcs.
First things first…what is Center Parcs?
For those not in the UK, Center Parcs is an activity village set in acres of forest. There are several locations throughout the UK and Europe, and each feature a water park, a lake for watersports and boating; shops, restaurants, a spa as well as a wealth of indoor and outdoor activities for the whole family.
Aside from the swimming, everything else costs extra, in addition to the cost of your holiday lodge. These means that costs can mount up quickly and it is definitely not one for a tight budget!
Share the cost
Probably the biggest way to save money at Center Parcs is to go with friends or family and split the cost. This also enables you to get a larger or upgraded lodge for less money.
If you have young children, there is the added bonus that you could choose to babysit for each other on different nights and each couple enjoy some time out once the kids are in bed.
All of the restaurants are well catered for children, meaning there is no reason not to all dine together, however if you're after a bit of child free time, the added bonus to the babysitting scenario is that your meal out for two will cost less than paying for your 4 year old to eat 2 mouthfuls of their £8 meal before declaring themselves full!
Typically, we eat out as a family/large group once in a 3 night break and split into couples or eat in the remaining nights.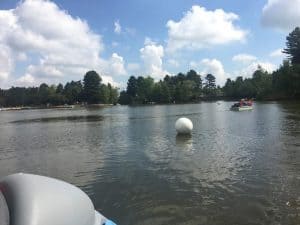 Go out of Season
This is another obvious one but like most holidays the cost skyrockets in the school holidays. This is frustrating as someone who works in education, I am unable to book time off outside of the school holidays. So even before I had children I have always been tied to paying extra!
If you are able to go outside the school holidays, then this is a no-brainer. However, if you have school age children, consider a Friday to Monday break in term time, arriving after school on Friday and leaving late on Sunday. As checkout is not until Monday at 10am, you will have access to your accommodation all day.
Even better if you can plan your Center Parcs break around any non-standard school holidays your children may have, such as a teacher training day, which means the cost stays low and you get the full 3 days.
Make use of the free activities
The "Subtropical Swimming Paradise" is cited as the jewel in the crown at every Center Parcs. It is definitely our favourite activity and the one I remember from my teens. Whichever Center Parcs resort you go to, there are multiple waterslides, lazy rivers and raft rides to choose from.
We are big waterpark fans in our family, so because of this we are happy to go swimming every day of our break – not just because it is free.
There are lots of lovely nature walks you can do, as well as cycling (free if you've brought your own bikes). This means that we only book one other activity per day which helps keep the cost down.
By the time we have gone swimming, had some lunch, chilled out or gone for a nature walk and done our day's activity we find that is plenty to keep you occupied!

Pick your activities wisely
Center Parcs offers a wealth of activities for the whole family which is one of the reasons it is so popular. However, some of these activities can be over priced. We try to find a balance of picking something we can enjoy together and something you can't do elsewhere for a lot cheaper.
Bowling is always popular with my family but at the cost of around £14 per person this is something you can easily do elsewhere for a lot less, whereas how many times do you get to zipwire over a lake or go clay pigeon shooting? (I have to say I haven't done either or these things at Center Parcs but they are on offer and I'm sure you get my point!)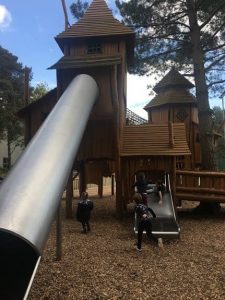 Bring your own Food – (but not too much!)
No matter what happens we always seem to pack too much food, which means not only have I overspent at the supermarket but the things that don't keep end up going to waste.
Plan the meals you are going to eat in and buy accordingly – we usually bring stuff for breakfast, lunch and one evening meal.
I saw one guide to saving money at Center Parcs from a national newspaper that suggested abstaining from eating out at all because you're not there for the chain restaurants. While I take the point, I feel this is unrealistic and impractical – it's a holiday after all, and for most of us, this means a break from the cooking routine, if only for one or two nights of the break.
Eating out at Center Parcs can be pricey but you have to weigh up if you are happy to eat in or enjoy a meal out for extra cost – it is a holiday after all!
Each villa has a barbecue so this could be an option for one meal.
The onsite food shop isn't as pricey as it used to be. In Sherwood Forest, it now seems to be stocked by Co-op and have similar prices to their other stores.
There is also an onsite takeaway catering in Chinese, Italian and Indian dishes, although we personally found it pricey and more like a supermarket dine in meal deal than a proper takeaway. I would rather spend the money on a meal out, or bring my own food and get the takeaway back at home!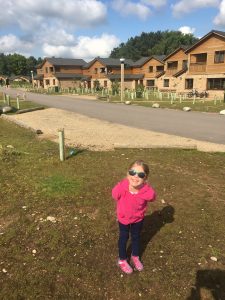 Don't get seduced by the onsite shops
For some reason on holiday, it seems many of us have a compulsion to buy stuff just because it's there. A quote from a fashion magazine years ago has always stuck with me about buying clothes when on holiday abroad:
The same can definitely be applied at Center Parcs – I love browsing their onsite shops full of premium high street brands – however I know I can get some of the same brands for a fraction of the cost online.
I took great pleasure in pointing out a Joules scarf to my husband I bought on the Joules ebay outlet for £5.99 that was £19.99 in the Center Parcs shop.
The onsite toy shop is even worse– pocket money toys like rubber balls and plastic things that you just know will end up filed under "crappy clutter" at home were as much as £4.50.
If you think your kids will want to burn a hole in their pockets just to get something new on holiday, consider buying a couple of pocket money toys from Home Bargains or a £1 shop beforehand and saving them as a surprise for the holiday – my mother had done this for my daughter anyway just as a treat, and she was more than happy to get a sticker book and a flashing rubber ball.
IN SUMMARY
Things to bring to save money at Center Parcs:
Food for planned meals
Your tipple of choice for a few evening drinks
Snacks – to avoid the pricey snack options.
Pocket money toys for the kids to avoid the gift shops (See above)
Own swimming towels (bathroom towels are provided) – I would imagine this is stating the obvious for most people but you can hire swimming towels, obviously bringing your own eliminates this cost.
Own pool inflatables if wanted – the ones on sale at the pool are very expensive!
Own bikes if you plan to use them
Bird food – this is on sale in the onsite shop but can be quite pricey. It's a good one to bring as the wildlife will literally flock to your door!
What I choose to spend extra money on at Center Parcs:
Starbucks coffee – I rarely buy coffee in day to day life so this is my holiday treat!
Brunch at the Pancake House – this is a Center Parcs favourite!
At least one family evening meal out – it's part of what makes it a holiday to me.
A spa package at the amazing Sherwood Forest Aqua Sana Spa, probably the best spa I have visited so well worth the money.
A cocktail or two, (but then save most of the drinking for back at the lodge!)
What I choose to avoid spending extra money on at Center Parcs:
Activities we can easily do elsewhere for cheaper, e.g. pottery painting, bowling
Overbooking activities instead of using free options / downtime
Eating out for every meal
The onsite takeaways – really not worth the money and more like a supermarket Curry / Chinese than a proper takeaway – and more expensive!
Buying clothing or toys in the gift shops
Will You Save Money at Center Parcs with these tips?
So they are my tips to save money at Center Parcs – do you have any to add? Will you use any of these tips yourself? Let me know in the comments!
Related Posts you may also like:
Save money on family days out with Kids Pass
Ways to Save Money at Haven (from our sister site)