Genius Ways to save money on baby essentials
Last Updated on February 10, 2023 by Melissa S.
When I got pregnant, it was very much a surprise despite years of trying – we had come out the other side and given up for a while in order for me to settle in at a new job. Always the way or so I am told!
Anyway, because of this, coupled with the fact the job was a 15k pay cut and we had just spent a significant amount of money extending our house (well timed, as previous to this, any baby would have shared the only spare room with a tumble drier and sofabed) – there was no pot of emergency savings.
It had literally all been spent on our house. Luckily, I was still able to save a significant amount of money each month ready for maternity leave. Also, despite never being a very good saver, I have always prided myself on researching and finding bargains.
Shopping for a baby opened up a whole new world of complicated and expensive "stuff", much of which you can actually live without, but that's a whole other post in itself.
Once you have decided on the things you do need, here are my top tips to save money on baby essentials.
Research, research, research!
When I was pregnant I did lots of reading up and research on the products I wanted. These were not necessarily the cheapest options so once we had decided on a specific item, such as a baby monitor, I would then compare the prices online and try and get the best possible deal.
Keeping an eye out for sales or voucher codes is obviously one way, but I was also surprised to discover items being sold on eBay new from reputable companies such as Tesco Direct. These were often the cheapest.
Argos also regularly seem to have good offers on baby items; later down the line when my baby was 6 months old I got a Mamas & Papas highchair and travel pushchair both for 50% off in Argos.
You may also wish to consider preloved or reconditioned items – for example, Mamas & Papas have a dedicated website for reconditioned pushchairs. The site also offers deep cleans / trade ins and part upgrades for Mamas & Papas pushchairs so it could be a great way to spruce up your existing pushchair for a second baby.
On another occasion I took advantage of the Mothercare expectant parent events that are held regularly in store. They offered 10% off purchases made on the night, so as I had decided on a Chicco Next 2 Me crib that was identically priced everywhere, I managed to at least make a 10% saving.
Use Cashback sites to save money on baby essentials
This tip could be used for any aspect of money saving, but if you are buying big ticket items such as nursery furniture, car seats and travel systems that run into hundreds of pounds each then it's always worth using cashback. I saved over £40 when buying my nursery furniture through Top Cashback.
New to cashback? Read my Topcashback review

Buy supermarket baby & children's clothes
I really can't recommend these enough. For the quality and price I think all the major supermarkets are well worth a look, especially when you consider the rate in which babies outgrow their sizes.
In my experience they are sized slightly smaller than the likes of Next and Mothercare but are good quality for the price. Asda and Tesco are my personal favourites, but I also occasionally buy from Morrisons and Sainsbury's as well. I think all their items are worth a look but in particular, these are my top picks:
Vests (and underwear once you get to that stage)
I have never really noticed a difference in quality (other than smaller sizing) but these are significantly cheaper than the likes of Next and Mothercare.
Sleepsuits
As above, and when your baby is changing sizes every couple of months I don't see the point in paying more than you need to.
Pyjamas
Once you make the transition from sleepsuits to pyjamas, again there are some great bargains to be had in the supermarkets. There are often branded character items such as Disney, Paw Patrol and Peppa Pig too but still at cheaper prices than elsewhere. And for sleepwear, I don't see the point of paying more!
Swimming costumes
Swimming costumes are around £4 – 5 compared with £10-12 in the likes of other high street shops. However, supermarkets only begin stocking these after Christmas in the lead up to the spring and are usually being sold off in the sale from September. If you know you are going to take your baby swimming regularly (or have an older child), stock up on the next couple of sizes at a fraction of the price.
Bibs
Bibs are going to get covered in mess so cheap and cheerful is the order of the day. My (childless) brother bought us a pack of beautiful Ralph Lauren bibs from America as a baby present – it's safe to say they were too nice to consider using!

Stock up on baby clothes during Sales
While I have never been one of those people who sets their alarm for stupid o' clock to queue up outside Next to be first in line for the sale, I do take advantage when I can, especially on Boxing Day. (You can read more about my Boxing Day sale hauls here).
It is a great way to stock up on baby clothes as you can stock up in larger sizes for the next few months ahead. My advice would not to go *too* far ahead unless you are confident what size your little person is likely to be for the next few months.
My daughter was bang on average and seemed to progress through the sizes more or less exactly according to the ages suggested on the clothes but even so I didn't want to get too far ahead of myself.
The key is to look for seasonal clothes in the correct sizes – no point in a thick jumper that will only fit during the summer months!
I also took advantage of the Boxing Day sales when buying the nursery furniture – this was bought online from Mamas and Papas and was 50% off. I had researched and chosen options for the furniture in the months beforehand so it wasn't just a case of picking whatever was on sale, but we deliberately waited to see what would be reduced after Christmas, which paid off!
Register for an Amazon Baby Wishlist
By registering for an Amazon Baby Wishlist, you can get 15% off one of your wishlist items (subject to T&Cs). This is a great way to make a significant saving on a higher priced item.
Additionally, it's easy to share your wishlist with friends and family, so they can buy you the baby gifts you actually want. Getting a gift you need is obviously a great way to save money on baby essentials.
Use outlet shops – online and instore
Once your little one is ready for shoes, Clarks outlet is a top tip for saving money. They still have the same foot measuring service so you can ensure the correct fit for growing feet, but discounts on the prices in the normal Clarks shop.
The only difference being the outlet is that the range available isn't as wide and is obviously made up of older lines, not that babies care about last season's shoes! I also found that in the very small sizes (my daughter's first shoes were a 2G!) there is a very limited stock, but as they progress through the sizes there is much more choice.
Many of these outlet shopping centres have other brands for children and baby's clothes such as Joules, Next and Gap, but did you know many of these chains also have online outlet stores? For example, Joules have an outlet store on eBay where you can make the same savings as the outlet shop.
Ebay often run promotions such as 20% off selected stores. I took advantage of this recently to double the discount and buy 2 Joules coats for my daughter for £49. (Note: – The screenshot below shows the prices before the ebay 20% discount that was taken off at checkout.)
When full price in the original Joules store these would have been over £100 for the 2! Now she is 3, the clothing sizes tend to last a full year so I don't mind spending a bit more money on a quality product. Often I have just googled "**Shop name** outlet" and been surprised at how many brands have them!

Consider Cloth wipes & Nappies
A great way to save money on baby essentials is to use reusable nappies. I originally invested in cloth nappies for the environmental impact as I just could not stand the thought of the amount of landfill they would create for one child. However, despite the initial costly outlay, they are a definite moneysaver.
What I particularly like about cloth nappies is the lack of waste; if a nappy change is needed just before bathtime, it doesn't matter if it is only worn for half an hour as it will get thrown in the wash ready to be reused.
You can get a full set of cloth nappies like this for under £200 but check out your local council for information on discounts as many of them offer incentives for cloth nappies to reduce landfill.
I also invested in 2 sets of cloth wipes – a white set for nappy changing and a coloured set for faces and general use. Again, this was initially because I didn't want to create a mountain of disposable wipe waste rather than money saving. Cheeky Wipes do fantastic sets of wipes and boxes.

One thing I would add to anyone thinking of using cloth – it doesn't have to be an "all or nothing" decision! Far too often on forums I feel like anyone who mentions disposables to a cloth nappy user is treated like they have said a dirty word.
But using them occasionally made it far easier for us to continue our use of cloth nappies and ultimately reduce landfill, and our costs.
We continued to use disposable nappies at night for absorbency and disposable wipes for being out and about. We also used disposables when going on holiday just for the ease of use. Obviously our costs for disposables were a lot less than others – around £10 a month.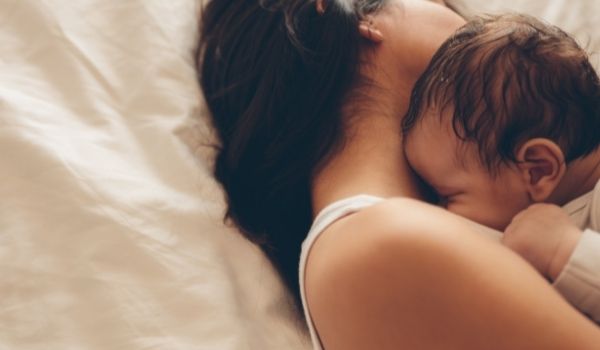 Nearly new sales / Local selling sites
Certain items, such as toys that will quickly grow out of use, are worth trying to buy second hand for a number of reasons – firstly, you can find some great bargains on toy bundles as people have a clear out and want to get rid quickly. Secondly, due to the limited age range some of these items are in great condition as they have only been used for a few months.
The NCT organise nearly new sales and you don't have to be a member to attend – members just get early access. I have picked up some great items such as Vtech toys and Junior J clothing at these. Preloved and Vinted are also worth checking out.
My top nearly new bargains:
The infamous VTech walker (I think it might be the law to own one of these if you have a child under 3) £10 – £35-39.99 new
Bumbo seat with tray – £15 – £45 new
Fisher Price Jumperoo – £15 – Approx £80-£100 new
How do you save money on baby essentials?
Have you used any of these tips yourself – or do you plan to look into any of them? Do you have any more tips to save money on baby essentials? Let me know in the comments.

About the Author
Melissa is a working parent who left behind a senior management salary for a better work/life balance. Following her own money saving and money making strategies she was able to clear debt and live a life she loves. Blogging, selling digital products on Etsy and selling preloved items on eBay are her favourite side hustles. Read her story here.
Other Posts You May Like
How we bought a playground with Pocket Money
What You Need To Know About 30 Hours Free Childcare
Can You Really Save Money using Cloth Nappies?
Save or Splurge? Budgeting for Baby Gear
I'm taking part in the Monday Money linky with Lynn from Mrs Mummy Penny, Faith from Much More With Less and Emma from EmmaDrew.Info