How we bought a playground with pocket money
Last Updated on March 12, 2022 by Melissa S.
When you are on a tight budget, it can be hard to find the cash for "big" items for the kids. For example, we really wanted a swing and slide set for our garden. I didn't necessarily want this to be a birthday or Christmas "present" as it would wipe out the money for any other gifts.
Also I knew it would be something to get years of use out of for our daughter and any future children so I saw it more of a furniture purchase than a toy.
This is where the pocket money comes in! We are very fortunate in that one set of grandparents gives my daughter £2 a week pocket money which equates to £104 a year. This is not handed over weekly, but my mother in law keeps track of how many weeks she has saved and then gives us it in larger amounts such as £40. I then put this straight into my daughter's savings account.

As she already has an ISA that is paid into each month for long term savings, we view this money as something to spend on things for her to enjoy now. Addtiontally, she gets birthday and Christmas money from the other grandparents (my mum thinks she has too many toys!) so this and any additional gift money all gets saved up, as well as top ups from myself and my husband.
This has allowed us to buy a climbing frame, sandpit, slide and swing set for £279 in 2017 – (price has since risen slightly) and a wooden playhouse this year for £433. (We put some money out of our birthday present budget towards this too rather than getting her lots of smaller gifts).  It is amazing how much it adds up to be, and in my opinion a much better use than buying more plastic toys for the house.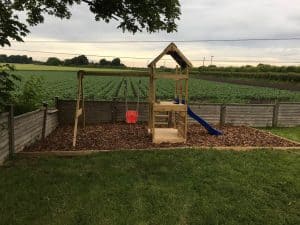 Tips for maximising your child's pocket money
Use cashback – When making these purchases, we always check Quidco or Topcashback – we got 10% cashback on the playhouse meaning another £43 off!
Set up a savings account – You may only be able to put a small amount away each month, but as I hope this post illustrates, small amounts can go a long way. £1 a week = £52 a year, £10 a month = £120!
Involve your child in money management – As children get older, giving them responsibility for their money is a great idea. We will eventually begin giving our daughter a small amount of pocket money for her to spend as she wishes aside from the savings.
Hopefully doing this will give children a good foundation in the value of money and saving, especially if they have their own ideas for a goal for their savings. It might also (hopefully) make them think twice about wasting it!

Ideas for pocket money savings goals:
Large garden toys / playhouse
Bike or scooter
Discount pass membership for days out such as KidsPass or Merlin
Live theatre shows for younger children such as Peppa Pig
Towards a residential school trip for older children
Towards a bedroom makeover (again – for older children who want to pick their own knick knacks and décor)
Musical Instrument or hobby / sports equipment
Computer games
Laptop, Tablet, Console or e-Reader
Sports / Concert tickets
How much could you save for your children?
Obviously we are very fortunate that we get this money from the grandparents and not everyone will be in this situation. If you receive any birthday or Christmas money for your children that would be a good place to start, and maybe you could decide to pay £1 or £2 a week towards it yourself or whatever you can afford.
What do you think of the idea of saving up pocket money? Are there any other ideas you would use it for? Let me know in the comments.
You May Also Like:
Activities for a Budget Friendly Summer
Ways to Make Birthdays more affordable
How I Save For Christmas Without Even Noticing
I'm taking part in the Mummy Monday linky with Becca from Becca Blogs It Out