Best Label Printer For eBay Sellers 
Last Updated on July 3, 2023 by Melissa S.
Do you need a thermal printer for eBay?
If you're already spending time and money on ink and other supplies for your eBay packages, then buying a dedicated thermal printer for your eBay labels could be an option.
The advantage of a thermal printer over a conventional printer is that they are inkless, so while you will still need to buy the labels, you never need to worry about running out of ink.
Before I bought my thermal printer for eBay, I didn't buy sticky labels so I was printing out shipping labels onto A4 paper, cutting them to size and using clear parcel tape to secure them to my parcels. 
This was a waste of paper, tape and ink in comparison to buying a thermal printer, (not to mention time!) so I'm glad I took the plunge. However, due to the cost of a thermal printer, it's probably not something you need to invest in until you are a more established seller.
If you are a private seller and only send a handful of items a month, it may not be worth it for you right now.
Read on to decide if it's worth your investment to buy a thermal printer for eBay.
The label printer supports printing wirelessly via Bluetooth using Android and Ios systems.
No ink, No toner, clean with no mess, economical. Works with both fanfold labels and roll labels.
Print labels from various marketplaces and shipping platforms, such as Hermes, Royal Mail, Amazon, Shopify, Ebay.
USB connection works with both Windows (7 and newer) and Mac OS (10.9 and newer) devices, Mac OS only works with USB connection, you can't print via Bluetooth.
Easy to set up
This JADENS Bluetooth Thermal Printer is my top choice, and the one I currently use. It fulfills everything I need in a thermal printer:
Prints high quality labels (203 DPI)
Wireless and ability to print direct from my phone
Compatible with generic 6×4 labels so I'm not tied to an expensive brand (or stuck if they decide to discontinue that line).
This thermal label printer works to the same specifications as our other recommendation, but is not wireless.
Due to this, it generally sells for a lower price point.
Inkless and uses standard 6×4 labels
Print labels from various marketplaces and shipping platforms, such as Hermes, Royal Mail, Amazon, Shopify, Ebay.
Budget choice
This Thermal Printer comes in around £40 cheaper but it is not compatible to print from a mobile device. It is still a great printer for those who do not need wireless printing and are happy to print from a desktop or laptop computer.
I wanted the ability to print from my mobile as otherwise it would be removing the convenience I already had when printing to my regular printer.
Option 3: Buy a used thermal printer on eBay
Of course, if you're on the fence and want to try one out, what better way to get started with a label printer for eBay than buying a used one on eBay.
This could be a good way of grabbing a bargain, but I would still recommend doing product research to avoid a model with discontinued labels or support, for example.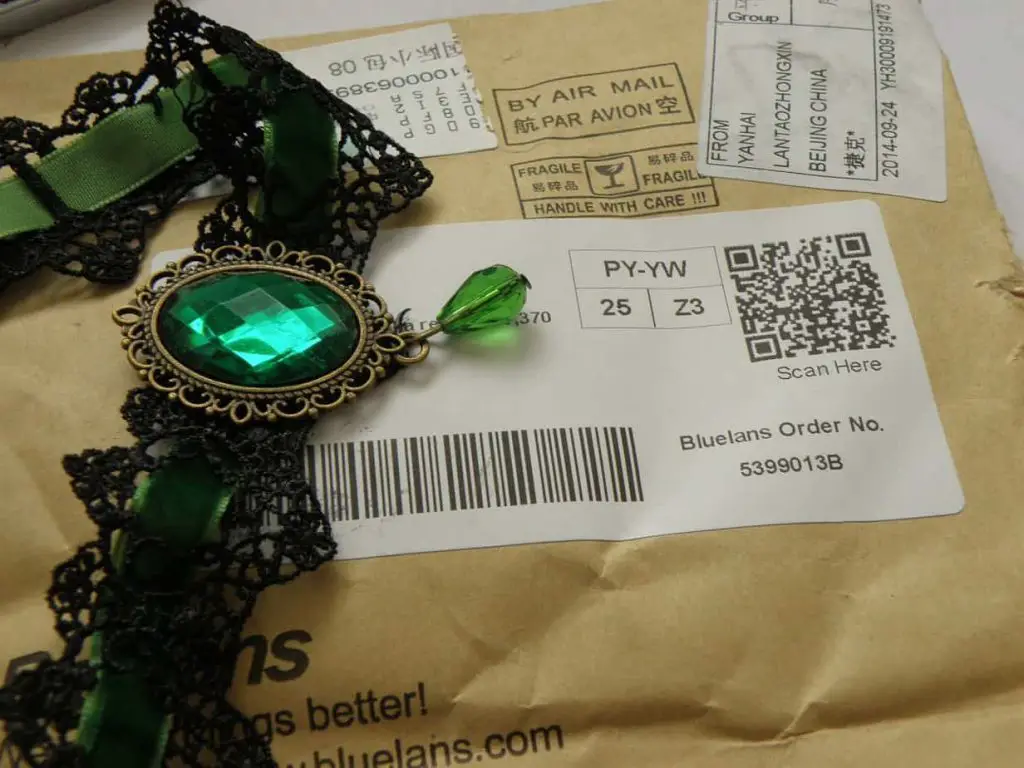 What Makes a Good Label Printer for eBay?
When selecting my label printer for eBay, there were several factors that I wanted to ensure it included. Even if you don't have the same requirements, it is worth considering the features you do want before making a purchase.
Reading the review and Q&A sections of Amazon and other sites can be invaluable. Sometimes you can discover issues you hadn't even considered.
Essential: Ability to Print 6×4 inch (100 x 150mm) size labels
Initially, I was going to buy a Brother QL-600 thermal printer as this was only around £60 and significantly cheaper than other models.
However, after doing some research I realised that it does not print 6×4 size labels which means your labels can be rejected by Royal Mail and other postage services, as it affects the ability to scan the barcode. 
This was actually something I discovered by reading the Amazon Q&A on the product, where other sellers had been caught out by it.
Essential: Affordable labels and not brand dependant
There's no point saving £30 on the upfront cost of your thermal printer if it requires expensive branded labels that cost you double the price every time. Both the recommendations within this article work with generic 6×4 labels like this that can be bought cheaply.
Generic and will work with any thermal printer that takes 6×4 labels.
500 self adhesive labels on a roll
6″ x 4″ (100mm x 150mm)
The Brother QL-600 however, due to the fact it is not 6×4 label compatible meant that a specialist size had to be bought which was around 3 times the cost.
This point further highlights that the initial cost of the printer is just one factor to consider.
Essential: High Quality Print (203 DPI or higher)
If you're printing barcodes and QR codes for scanning, it is essential that the DPI (Dots Per Inch) meets the requirements of the shipping company.
Most printers that are labelled "for eBay / Etsy etc" will be compliant with this, and have 203 DPI. Here in the UK, I have not found any shipping providers that state a minimum requirement for DPI, but it is worth considering this before purchasing. 203 DPI is a good quality and the standard used by most thermal printers.

Desirable: Wireless connection / Mobile compatible
This may not be an essential for you, but I mostly print eBay shipping labels from my phone wirelessly. I don't want to have the hassle of loading up my laptop and connecting a thermal printer via a USB lead every time I make a sale, so a wireless connection compatible with iOS / Airprint and the eBay app was something I definitely wanted.
My budget pick doesn't have this feature, but it would still be a great option for those who do most of their eBay selling via a computer.
Desirable: Easy To Set Up
It goes without saying that most eBay sellers want a fuss free setup without having to resort to confusing installation instructions. It was simple to set up my recommended printer and it was ready to print in a matter of minutes.
eBay Thermal Printer FAQs
Q: What type of ink does a thermal printer take?
A: None! Thermal printers are inkless and work through heat transfer, so you never need to buy replacement ink.
Q: Can I use any size label when printing shipping labels?
A: No. Printing onto the wrong size label (e.g. too small) can result in your parcels being delayed or undelivered if part of the QR or barcode is missing, even if the address is visible. Ensure the thermal printer you choose is compatible with 6×4 (100 x 150mm) labels, which is the standard size.
Each shipping company will have their own rules about this, so it is best to check their policy if you are unsure. Here in the UK, Royal Mail has these guidelines for using their Click & Drop service.
Q: Do I Need to Use Branded Labels in my Thermal Printer?
A: It would be impossible to answer a resounding "No" across the board, however both the recommended thermal printers within this post take generic brand labels like this. I would definitely make sure this is a feature you consider alongside the initial cost of the printer.
In Summary
If you're printing a number of labels per week and spending time cutting and sticking them to your parcels, then a label printer for eBay would be a great next investment in your selling journey. And if you're turning a good profit, you can just take it out of your eBay funds!

About the Author
Melissa is a working parent who left behind a senior management salary for a better work/life balance. Following her own money saving and money making strategies she was able to clear debt and live a life she loves. Blogging, selling digital products on Etsy and selling preloved items on eBay are her favourite side hustles. Read her story here.
You May Also Like
The new eBay Payment system – No more Paypal?
How I made over £1000 selling old junk on eBay
Is it worth selling CDs on eBay?