How I made over £1000 on eBay selling old clutter
Last Updated on July 25, 2023 by Melissa S.
If there's one thing 2020 has been good for (and let's face it, there isn't much), then online shopping is it. So if you are an independent seller on a platform such as eBay, Etsy or Amazon, you probably saw your profits soar.
Even for a casual, private seller such as myself, I found I was making significantly more sales than usual in lockdown, and so when Q4 rolled around, I decided to get serious with listing as much as possible.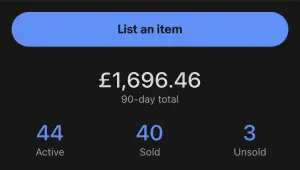 Of course, I needed items to list, and this came from a combination of finally getting round to listing things I had put off for ages for ebay selling, and my husband choosing to upgrade his games console to a new XBox, selling his PS4 and XBox One, plus associated games in the process. Aside from this there were a number of items that easily could have been binned or donated to the charity shop. I thought it would be useful to demonstrate that even if you think you have nothing worth eBay selling, it is always worth checking!
Read more about selling throwaway items on eBay
Old Console Games and Accessories (Xbox 360, Ps2, Wii)
While the majority of these won't make a fortune, it can be easy to just send them to the charity shop. However if you take the time to check sold listings, you may find that some are worth selling, especially in bundles. Here are just some of the games and accessories I have sold in the past 90 days:






Empty Boxes from consoles and other items 

I sold an empty Nintendo DS box with manuals for £12.90! It had been up in the loft and the console was sold unboxed a couple of years ago as I assumed the box was long gone.  If you have any empty boxes for games consoles or other items, don't underestimate their resale value for eBay selling. Boxed items are always more attractive for buyers and add value, so sellers will look out for boxes for items they may have picked up unboxed at a car boot etc.
Sky TV Boxes
Every time we got a Sky TV upgrade my husband kept the old box in the loft "just in case"…after being tempted to throw them in a skip I got round to listing them…after checking sold listings, one sold for £28 and another for £15.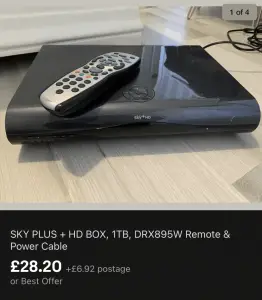 Wireless Router

This is still current but it was not needed due to the purchase of an upgrade. A few years ago this would be the sort of thing we would stash in a drawer unsure what to do with while technology advanced and it depreciated in value. Strangely this accumulated a massive 41 watchers on a 7 day auction, and sold used and unboxed for £81. Not bad, as a new one would be £150.
What else did I sell on eBay?
I tend to stick to selling CDs, console & PC games but any other random bits & pieces I had get listed too. Some sell quickly, others may take 6 months but once they are listed they all go into a storage box and it is very satisfying to see it gradually emptying! Here are some of the more random things that have sold in the past 90 days, all from my own possessions:
Laptop Bag – £28.00 I bought this bag for over £100 probably 10 years ago. I used it a lot at the time but it was taking up a lot of space sitting unused so I decided to get rid. It took a long time to sell and I was getting to the point of considering donating it, so the £28 sale was very welcome.

Blondie Annual from 1981 – £10.90 Something I probably picked up in a vintage shop a few years ago.

Nikon 35mm Camera – £22 Found in a drawer unused for probably 20 years!

Baby Signing Kit – £6.50 Came as part of a baby subscription box, I never used it and my daughter is now 5 so it was time to list it! 

Gift Boxes from Elemis purchases – £3.50 each I always stock up on Elemis skincare products when they have a Christmas promotion. The sets each come with a folded up gift box I have no use for, so rather than throw away I managed to get £3 each for them. They both sold within days of being listed.
Read how I do this and my other ways to get luxury beauty for less

Modern Toss Christmas book £8.99 – an unwanted gift I received a couple of years ago. It was unused so in very good condition.

As you can see, this last lot are just a mish-mash of items that I wanted to declutter and could have easily been binned or donated, but instead with a bit of time and effort they have made me around £80.
What could you sell on eBay?
Of course you might be reading this thinking, I don't have anything worth selling, and that was how I thought when I first started my money making journey. However over the past 3 years I have been really surprised to discover the value of some items I would have otherwise thrown away or donated.
My number one tip every time you have something to get rid of, is simply to check sold listings or local selling sites and see what it is going for. 
I would love to know some of the weird and wonderful items other people have made money eBay selling – leave me a comment below and let me know your best sales!

About the Author
Melissa is a working parent who left behind a senior management salary for a better work/life balance. Following her own money saving and money making strategies she was able to clear debt and live a life she loves. Blogging, selling digital products on Etsy and selling preloved items on eBay are her favourite side hustles. Read her story here.
You May Also Like
How to sell on eBay: Complete Beginner's Guide
Best Label Printer for eBay sellers
How to Remove Negative Feedback on eBay
The eBay payment system: what you need to know
How I made over £300 in my first 60 days as an eBay seller