eBay payment system: Everything You Need Know
Last Updated on July 26, 2023 by Melissa S.
 eBay updated its payment system in 2021, switching to a managed payment system and removing Paypal as an option for sellers to receive their money. If you're new to selling on eBay, or are picking it back up after a long break, here's everything you need to know about the eBay payment system in 2023.

What is the managed eBay payment system?
Historically, the only way for sellers to get paid was via Paypal. Late in 2020, eBay announced that they would be switching over to a managed payment system in order to simplify and improve their user experience. This means that instead of being paid into Paypal, sellers now receive their payments directly into their bank.
Sellers were gradually asked to switch over to the new managed payment system meaning that by the end of 2021, Paypal was phased out as a way of sellers receiving their money.
Can I still use Paypal as a buyer?
Yes – Paypal can still be used to purchase items on eBay if you are a buyer. The option to pay using Apple Pay and Google Pay will also be added for buyers in this new rollout, as well as the existing methods of cash and bank card.

Are the eBay seller fees different with the new payment system?
Yes – and no. Previously, eBay took a flat 10% fee from each sale price (including postage) while Paypal took a 2.9% cut, plus 30p on every sale. Under the managed eBay payment system, eBay take 12.8% plus a 30p fee.
This means that sellers will be a massive 0.1% better off under the new payment system! Woohoo! (Can you hear the sarcasm through the screen?)
However, if you are a seller who often receives cash payments via collection in person, you may find yourself worse off. Previously, cash payments would avoid the 2.9% Paypal fee, meaning a 10% fee instead of 12.9%.
There are some differences in ebay seller fees for business and private sellers, as well as certain item categories which are outlined in more detail in this link.
Will sellers still receive their payments instantly?
No! Although this has improved since this post was first written. Due to feedback from sellers, eBay now processes payments to you bank much more quickly but this still is not instant. Payments will now take up to 2 working days to reach your bank account. However, the money is secured, so sellers do not necessarily need to wait to receive funds before sending the goods.
This can still cause frustrations for sellers, especially as payment includes the postage costs that the seller would otherwise need to cover out of their own money.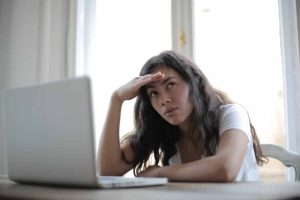 Will my payment as a buyer still be taken instantly?
Yes – like with most payments, the money will leave your account instantly in the usual way, but could take up to 2 working days to reach the seller.
Can I opt out of the managed eBay payment system as a seller?
No – it is a mandatory change and once opted in, sellers cannot revert back to being paid via Paypal. eBay phased out this method of payment for sellers in 2021 so it is no longer an option for any seller – whether private or business.
My top tips for sellers using the new eBay payment system
Changing over to the new eBay payment system is simple enough, but there are still some ways to smooth the process and save on fees where possible.
Set up a dedicated bank account for eBay sales
Most eBay sellers liked to keep their money separate from their day to day bank account and Paypal allowed us to do this effortlessly. I would recommend setting up a second bank account to receive your seller payments simply so you can keep track more easily.
I use the bank account I set up for Matched Betting for this, but if you don't have a separate account, I would recommend an online smart bank such as Starling or Monzo for this.
Take advantage of £1 / 80% off selling fee offers
In order to claw back some of those 12.8% fees, consider listing items during these promotional periods. They tend to be offered over the "long weekend" period between Fridays and Mondays several times a year. Sometimes these promotions are only offered to certain sellers, so be sure to check your emails to make sure you don't miss out.

Communicate with your buyer 
The changing eBay payment system may take some getting used to for both sellers and buyers, who are used to instant payments and speedy deliveries, therefore communication is key. Dropping your buyer a friendly "Thanks for your purchase" note explaining that the item will be shipped once the payment has cleared lets them know the reasons for any possible delay.
What are your thoughts on the managed eBay payment system?
Do you prefer the managed payment system, or still wish Paypal was an option? Leave a comment and share your thoughts with the community.

About the Author
Melissa is a working parent who left behind a senior management salary for a better work/life balance. Following her own money saving and money making strategies she was able to clear debt and live a life she loves. Blogging, selling digital products on Etsy and selling preloved items on eBay are her favourite side hustles. Read her story here.
Other posts you may like:
How to sell on eBay: Complete beginner's guide
How I made over £1000 selling old clutter on eBay
5 insanely easy eBay beginner tips
Make money on eBay selling actual junk!
Is it worth selling old CDs on eBay? (The answer might surprise you!)