Budgeting for a wedding: Where I chose to spend more
Last Updated on May 19, 2023 by Melissa S.
Disclaimer: Posts may contain sponsored and affiliate links. For more information, please see our Privacy Policy.
Weddings seem to go in phases – most of my friends got married within the same 3 or 4 year timeframe. Then after a few years there were younger siblings and cousins' weddings, but once I got to 40 I thought most of the friends and family I had who were likely to get married had already done so. Yet last year I had 3 weddings to attend, and now another one this summer! I'm certainly not complaining as I love a good wedding, especially if it involves a child free night away! But, together with seeing a lot of wedding budgeting on Instagram, it got me thinking about my own wedding and how I budgeted for it.
I can't believe my own wedding was almost 12 years ago now in 2007! So much in my life has changed since then including my salary – Back then I was earning a lot more and also had a stocks & shares ISA that I cashed in for the occasion, but that still doesn't mean I wanted to throw money away on pointless extras, and believe me, you can easily spend a fortune on things that nobody else will even notice!
On the other hand, there is the argument that this is a once in a lifetime event and so some costs can be justified. My approach was a balance of these two viewpoints – so in other words, decide what your "must haves" are and work from there. Obviously, this is provided they are in your budget to begin with as well as the type of wedding you have in mind. I live on a farm in Cheshire and was adamant I wanted a traditional summer country wedding. Below are the areas that I decided to spend more on, I will be following up with a post on where we saved soon.
Where I chose to spend more money
Firstly, just to clarify: It's not as though money was no object, but these were the areas that we chose not to compromise on once we had found what we liked.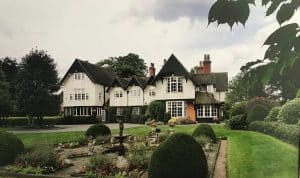 Venue
The venue was probably our number one priority as we were having the whole day including the ceremony in one place. After looking around several hotels and venues I knew that Mere Court in Knutsford was the one. It reflected everything we wanted for our day and it would still be my number one choice today.
I have also attended friend's weddings in different areas of the country and there were some amazing places. If you live in the south of England I would highly recommend Tournebury that you can find on this list of wedding venues in Hampshire.
Within the same area of the country, these links may also be useful when planning your ideal venue: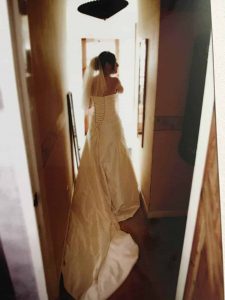 Dress
I paid for my own dress and it was exactly what I wanted. Although I tried several different shops I ended up back at the very first shop and the second dress I tried on. It was an Essence of Australia strapless A line gown made from raw silk with hand sewn Swarovski crystals. I would still choose this style today 12 years later.
Entertainment
Entertainment is a big part of the day, especially for your guests. Ensuring the right music was available for the dancing was a top priority for us so we ensured the DJ we used took our requests so our friends and family could get their favourite songs on.
Photo booths at weddings are now a fun and popular choice, providing guests with a talking point and a fun keepsake of your special day. Reflected Memories is a great option for photobooth hire.
If you really want to be the talk of the party, consider hiring an amazing 360 photobooth from OrcaVue.
Cake
I had a bit of a bee in my bonnet about the cake. Today, anything goes with cakes and 3 year olds can have a 3 tier birthday cake an no one seems to bat an eyelid. (Not my daughter though!) It might seem surprising to think back now but in 2007 the trend for non-fruitcake wedding cake was only just taking off in the UK. Neither me or my husband remotely like fruitcake so I was adamant that this is not what we were having and I really loved the idea of a more modern 3 tier sponge cake rather than something stodgy with a cheesy looking bride and groom on top.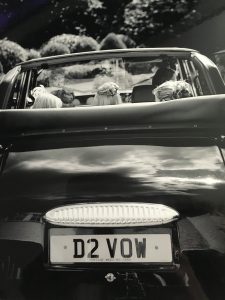 I was told by a well meaning family member that I simply "must" have a fruitcake and she would make it! Well it might sound a bit pig headed to refuse this kind offer but it just made me even more determined to have my own way. I paid a local cake decorator £240 instead to make my own design. As I had love hearts themed favours I incorporated this into the cake. When I look back at the photos it's nothing remarkable compared to the amazing cakes you see nowadays but I was very happy with it at the time. I would probably go for something a bit more sophisticated today though!
Photographer
This was personal choice but we felt photography was an extremely important element. The reportage style is commonplace today but this was still something a bit different back in 2007. The photographer, David Murray, began at our house in the morning where I was getting ready and stayed the full day until the evening guests arrived. All the photographs in this post are from the day. He controlled no aspect of the day apart from a few group shots and the results were breathtaking.  We got an extremely high quality ready printed album as part of the cost and we were very happy with the results. Murray Wedding Photography
Honeymoon
We splurged on a 2 week Caribbean cruise with Princess Cruises. However it is worth noting that despite being together since 2001 we had only had 1 holiday abroad in this time. I wasn't (and still aren't) a massive fan of flying so it was something I never felt compelled to do. The rest of the time we went to music festivals with friends and had UK breaks. However the cruise gave us the travel bug and we went on several long haul holidays a year over the next few years!
So these were my extravagances – where did I choose to save money? You can find out in this post.
Do you have any money saving tips for weddings? Did you get married on a budget or splurge? Let me know in the comments!
You May Also Like
How To Save Money As a Wedding Guest
Where I chose to save money on our Wedding