Get the best out of Black Friday (and avoid the worst)
Last Updated on July 19, 2023 by Melissa S.
Black Friday – you either love it or hate it. Personally, the first couple of years it became a "thing" over here I thought it was absolutely ridiculous.
People had been whipped into a frenzy after seeing viral footage of shops in America in past years, and some of our own retailers seemed keen to replicate this by enforcing queues and the promise of some great offers.
The irony was not lost on me that there were people literally fighting in the aisles to get £50 off a crappy brand TV that had probably had similar offers on it all year. Marketing was obviously everything.
Anyway, lessons seem to have been learned along the way and what we are now left with is more or less an expectation of a weekend of pre-Christmas discounts both in store and online.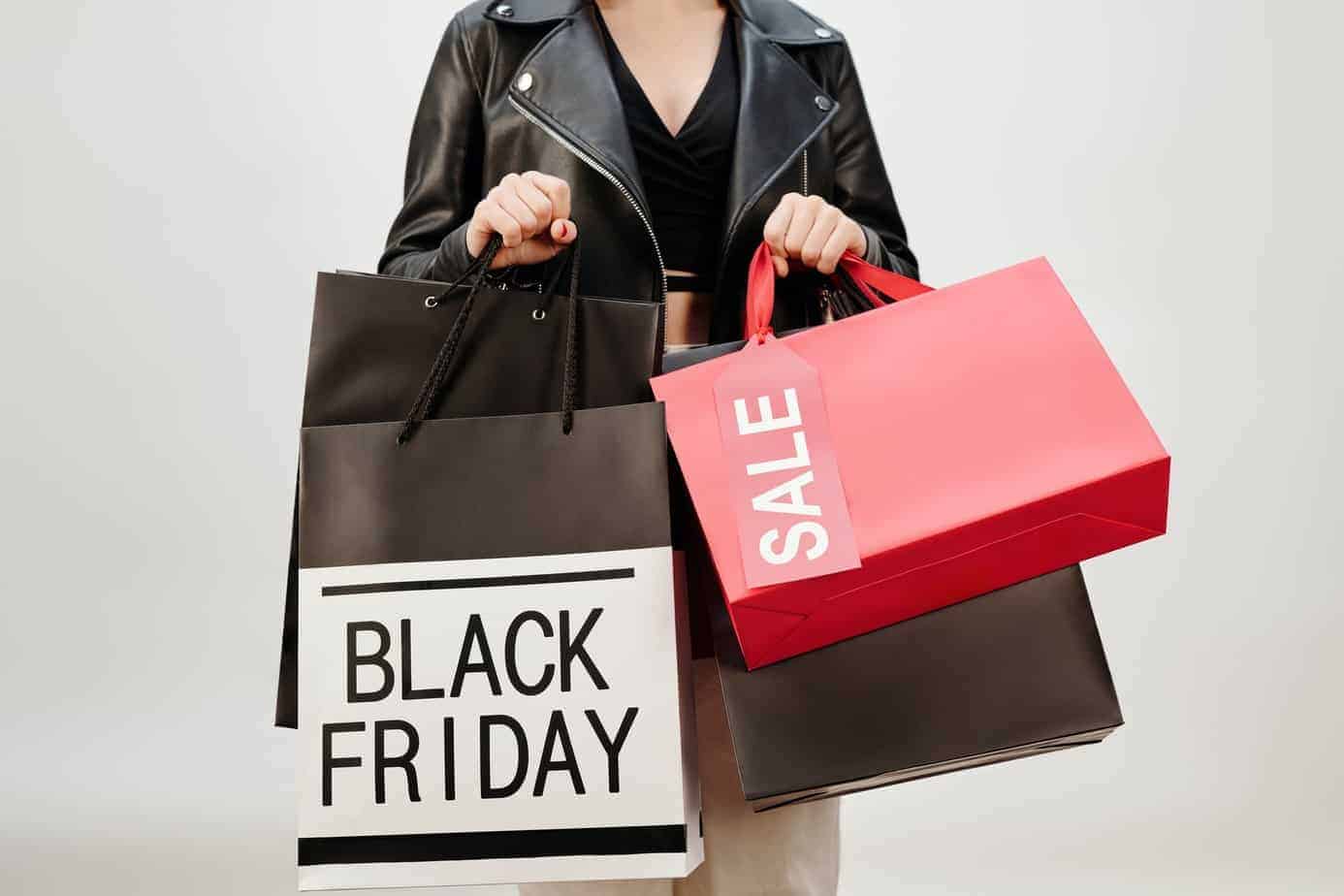 While you will never see me braving the shops on this particular day, for the past few years I have bought approximately 90% of my Christmas shopping over Black Friday weekend.
Last year this saved me over £300 on the RRP of the items – I would never have bought most of them full price but it meant that friends and family got more than they bargained for and I stayed on budget.
This is how I prepare for Black Friday to ensure I get the very best deals both for Christmas gifts and household purchases.


Have your Christmas money ready to go on Black Friday
I have mentioned in several posts before how I save for Christmas all year using Plum which is an absolute lifesaver for me. But however you pay for Christmas (hopefully not on credit) make sure you have the money ready and accessible in advance.
Plum now transfers cash out instantly but to make sure I'm prepared,  a day or so before I need it, I take it out and set up a separate savings pot in my Starling bank.
However you organise yours, make sure it is ready to go so you aren't dipping in to your usual money and doing mental IOU calculations between your accounts.
Make a note of the prices in advance
Many people's objections to Black Friday is that the offers aren't actually that good. This is certainly true in some cases, with many stores jumping on the bandwagon to appear to be offering great deals.
However, there are definitely some worthwhile offers out there. If you start to look at the prices pre-Black Friday and make a note of them then you will instantly know if you are getting a good price. Or even better use a price checker to let you know the history of the item's prices.
Andy from Be Clever With Your Cash has a great article here with loads of advice about online price checkers.

If you need a new household item, such as a microwave or TV, Black Friday can be a great time to get discounts. Now is the time to do your research and check the specifications you need rather than get swept along with a discount on an item that doesn't have the features you want.
As long as you keep your eyes on the prices for a few weeks beforehand, you can then make an informed purchase and hopefully get some discount too.
With generic gift items, such as pyjamas, candles, picture frames etc, I would always wait until Black Friday to see who has the best deals. New Look had 30% off everything for the whole weekend a couple of years ago which meant I picked up all of the above items as gifts for friends and family and made a great saving.
Buy "MUST HAVE GIFTS" Regardless of Offers
If you have a very specific gift item, my mantra is always: if it is in danger of selling out (such as popular toys), and it is on budget without an offer, then BUY IT. If it is neither in danger of selling out or on budget, then obviously wait until Black Friday and see if it is on offer. The worst that can happen is you end up paying the same.
This year my daughter wants an LOL campervan that at the time of writing is an eyewatering £100.
However, having researched the product extensively and seeing how many features there are, as well as comparing it with both the LOL dollhouse and Barbie dreamhouse that are both around £250, we have decided to purchase it.
With a 20% off promotion at Argos. I managed to buy this for £80 at the beginning of November.
I decided not to wait for Black Friday as LOL items are so popular I can't imagine much more discount than £20 off, but also it is in real danger of selling out. If it was to sell out, we would have to spend money on several smaller presents that would not be valued as much, so I think this would be false economy, not to mention extra clutter in our house.
Obviously with adults and older children this may not be as much of an issue, but I can't imagine telling a 4 year old on Christmas day that Santa was waiting for the sales before he brings her present!
Use Cashback
Regardless of whether your items end up with any Black Friday discount, both Topcashback and Quidco have had Black Friday offers in the past to increase the amount of discount will certain retailers, so it is always worth a look.
If you are not yet a member, there can also be lucrative new member sign up offers over the Black Friday weekend so it's definitely worth a look. I will certainly be trying to claw back some cashback on the LOL campervan!
Latest TopCashBack New Member Offers:



Make a list (and check it twice)
It can be so easy to get carried away in the sales, whether online or in store, and suddenly realise you've now bought 2 presents for your nephew but forgotten someone else entirely.
Or, in your excitement to grab a bargain you pick up yet another smart speaker device that you don't actually need in your house. If you make a list of everything you need to buy or want to look out for yourself, it makes it much easier to stick to your budget.
If you want a little helping hand getting organised, you can download my completely free Christmas Planner by filling out the form on this page.

Get your copy of my Debt Free Christmas planner filled with printable templates to help you organise and save money this Christmas. It's also completely FREE! Fill in the form on this page or find out more here.
Will you be taking advantage of Black Friday this year? Let me know in the comments.


About the Author
Melissa is a working parent who left behind a senior management salary for a better work/life balance. Following her own money saving and money making strategies she was able to clear debt and live a life she loves. Blogging, selling digital products on Etsy and selling preloved items on eBay are her favourite side hustles. Read her story here.
YOU MAY ALSO LIKE
Ultimate Guide To A Debt Free Christmas
How I save for Christmas Without Even Noticing!
How I saved £250 on my Christmas shopping 
Six Things I Stopped Buying To Save Money At Christmas
31 Awesome Money Saving Christmas Hacks from UK Bloggers