Last Updated on June 22, 2021 by Melissa S.
Boxing Day Sales 2019: What I bought and how I saved over £130 
If you are a regular reader of my blog you'll know I always take advantage of the post Christmas sales both online and in person and try and maximise the value of what I'm buying.
I have really scaled down buying clothing over the past couple of years as I realised I just had so much stuff, so I am a lot more mindful of what I buy. However, because I don't buy much the rest of the year I do enjoy updating my wardrobe, as well as getting necessities.
This year I had a few things on my list that I have needed for a few months:
New white trainers
A camel coloured cardigan (not really a necessity but I really wanted one!)
Black knee length boots for work to replace battered 7 year old ones.
Slipper boots (It has become a bit of a tradition that I always buy some half price on Boxing day, so my previous ones were a year old and ready to be replaced!)
Pre-Christmas online
It seems a bit crazy that shops have started cutting the prices online from around the 23rd, or whenever delivery will be after Christmas. With the items above in mind, I decided to have a quick look.
Knee High Boots: I managed to find some faux leather riding boots by Quiz RRP £42.99 down to £19.99 on Debenhams but they were already out of stock in my size. Luckily I went to Quiz's own site – not a shop I would usually consider – where they were still in stock. I saved on delivery by opting for free click & collect in store.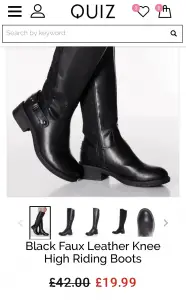 White trainers: I had decided on the Puma Cali which are RRP £70. Very had them in a cream colour down to £55.00, but I managed to find white and lemon which I preferred on Asos for £45. Using a discount code they had emailed me, I got another 10% off taking the price down to £40.50 including free delivery.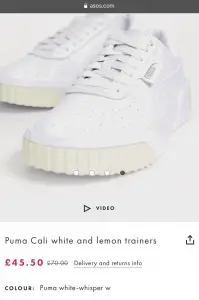 George at Asda: I had spied a camel cardigan in store for £18 so I had a quick look online to see if it had been reduced. As it hadn't I decided to wait until Boxing Day to check again. But I did find a lovely leopard print dress reduced to £12 from £25 which I decided to buy. (The links to these have now gone as the items have sold out).
Total RRP: £138
Total saving: £65.50
Total cash spend: £72.50
Boxing Day Sales 2019 in Store:
For Christmas I received a £25 Next voucher and £40 of vouchers for my local shopping centre.
My plan is always the same, I arrive for around 7.30am and it is really quiet so parking is very easy. Next is always my first port of call as it has been open since 6am. I don't think I would ever be one of the people that queue outside to get in for 6am!
In previous years I have managed to get lots of baby clothes for a great price which was a big incentive to go, but now my daughter is in age 5 clothing there never seems to be much left. I had a quick look but there wasn't anything worth getting her.
However, for myself I managed to get a navy cardigan RRP £30, now £15, and a glittery top RRP £22, now £6. Other than that there wasn't much I needed, although there was still a really good selection of jumpers, shoes and handbags left, I was just strict with myself as I didn't need any of these items!
My only disappointment was there were no slipper boots left in my size (I'm a 6 so a very common size) and this is something I've always been able to pick up half price in Next and know they are good quality.
In the home department I managed to pick up a vase of faux flowers RRP £10 now £3, A Christmas tree tealight holder RRP £10 now £3, and a silver Stag ornament RRP £8 now £2. I was pleased with all of these things as I had specific ideas for where they would go in the house, rather than just buying them because they were on sale.
Total RRP: £82
Total Saving: £52.50
Total cash spend: £4.50 (Minus the £25 voucher)
I had a quick look around the rest of the shopping centre but I was mindful of my online purchases too (which can be easy to forget if they haven't arrived!) so I was quite strict with myself. One place I avoided altogether was Boots. In previous years I have always built up my points and then bought gift sets in the sale, but I used my points for a Black Friday offer on a make up brush cleaner. Also, I know I don't need any more make up or bath sets, so even though it was tough, I resisted!
The only other things I bought were some slipper boots in Accessorise for £10 reduced from £20, and Pyjamas for £5 reduced from £8 in Primark. I used my shopping centre vouchers for the slippers but decided to use cash for the Pyjamas.
RRP: £28
Total Saving: £13
Cash Spend: £5
Boxing Day and beyond online
I went back onto George online and saw my cardigan had now been reduced from £18 to £12, hooray!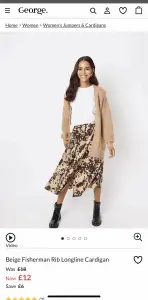 I know I had a good look on a few sites for any other bargains, but because I'd got the things on my list and didn't need much else I didn't make any other purchases.
Now all my orders have arrived, I'm really happy with my purchases and hopefully will make good use out of them all.
Total RRP of all items: £266
Total saving in the Boxing Day sales 2019: £137
Total cash spend deducting vouchers: £94
I still have over £50 of my Christmas money and £30 of vouchers left which I'm saving for now. So all in all this hasn't impacted into my normal monthly spending at all, and that's why I find it is a great time to seek out the items you want at reduced price, as no one wants their Christmas money absorbed into normal spending costs like coffee and petrol. All in all I'm really pleased with my purchases in the Boxing Day Sales 2019.
I have to admit, once you start spending again, I can see how easy it would be to fall back into the habit! However, I just need to remind myself of the clutter and the cost that regular shopping sprees can produce. It is a rare treat for me these days, but I have plenty so it no longer needs to be a regular event.