Please note that some of this post's links are affiliate links, which means if you click through and make a purchase, I may receive a small commission at no extra cost to you. SkinnySpending.co.uk is a participant in the Amazon Services LLC Associates Program, an affiliate advertising program designed to provide a means to earn fees by linking to Amazon.com and affiliated sites.
Last Updated on January 18, 2022 by Melissa S.
In my previous post I talked about the areas I chose to spend a bit more on for our wedding, which is now almost 12 years ago back in 2007! In this post, I share the areas that I saved money on – much more fun!
Stationery & Seating plan 
I hand made all my own save the date cards, invitations and seating plan. I bought silver ribbon and butterflies from eBay and some shimmery card. When you printed out in grey onto the shimmery paper it looked silver and it was a really nice touch. I would still be happy with these invitations today. Unfortunately I don't have a photo of one to include in this post.
Make Up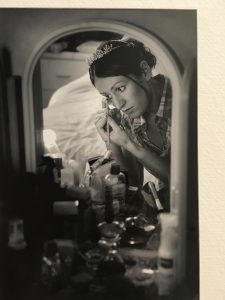 I paid for a hairdresser for myself, bridesmaids and my mum but we did our own makeup. I had been for a makeup trial but couldn't really see much of a difference as to how I would do it myself. However, I did treat myself to brand new Lancome foundation and it is still the type I use 12 years later. Although nowadays I reserve it for special occasions and use my beauty dupes day to day.
Video 
After spending so much on a photographer, we wanted to capture the day on film but not spend any more. A friend offered to film, edit and put together the dvds as his wedding present to us.
Shoes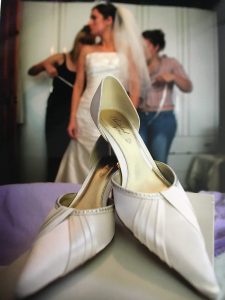 I had £300 budgeted for my shoes, and had some Gina sparkly numbers in mind, which were very 2007! Then I found some that were perfect in Next for £25. Result! So even though I had budgeted, it didn't stop me from grabbing a saving.
Flowers 
My mindset was after being to several friend's weddings I never remembered the table arrangements so I certainly wasn't going to spend a fortune on flowers. I opted for the bouquet, 2 bridesmaids bouquets, buttonholes and 1 arrangement for the registry table.
Table decorations
I decided to make my own shabby chic centrepieces using cake stands, and cupcakes decorated with love hearts that doubled as favours. They were ok – but did look a bit lost on the size of the tables. Pinterest did not exist back then and by today's standards they would not be up to scratch but hey – is anyone going to remember other than me?
Photo Booth
For guest entertainment, we hired a photo booth from Smart Pics UK Event Photography
We got some great feedback from the guests and this was an affordable option that provided some extra fun! It also gave the guests a great momentum of the wedding to take away with them.
Chair covers
These were an extra and I can't remember how much it would have cost but it was somewhere in the region of £200-£400. When I look at photos of the room again I know it would have looked a lot better with them but I chose to save the money.
Music 
This is one I regret looking back. It wasn't even a cost issue, it was more of a control issue. A friend put us off getting a DJ because she was really annoyed he had ignored all her play requests at her wedding. Music is a big part of our lives and I didn't want the same happening. A band didn't appeal to us at the time either and seemed a bit cheesy for the cool indie festival goers we thought we were!
Don't get me wrong, we still wanted the traditional crowd pleasing cheesy stuff, just not the whole night of it. Another friend had a hired jukebox at her wedding where guests could key in their requests and this cemented our decision to do our own music. We opted for our own laptop with a meticulously crafted playlist including all the cheesy crowd pleasers, the friends in-jokes and everything we wanted.
I think in some situations this would have worked perfectly but for the large venue and 150 evening guests it was not the best option. A DJ is able to judge the crowd and select songs to suit – if something clears the floor you don't want it playing to the bitter end followed by 3 more songs in the same genre. It wasn't a disaster by any stretch but it didn't run as smoothly as I would have liked and in hindsight this is something we should have spent the money on. I think today I would have had a band but you can't regret your past choices if you didn't have the same tastes back then!
Rings 
I nearly didn't include this as a saving as it sits somewhere in the middle. My husband hates jewellery and won't even wear a watch. He barely wears his wedding ring (luckily I'm not insecure haha). For this reason he chose a very modest white gold band. For a long time I was going to go for white gold which would have been considerably cheaper but at the last minute I decided platinum was the way to go.
White gold would have discoloured by now whereas the platinum has stood the test of time. My wedding band is a simple and plain ring whereas my engagement ring has a single modest diamond so they were not a massive extravagance. 12 years and a daughter later I don't have an eternity ring yet! Hopefully when we are debt free it will be something to think about.
Looking back, I do have a couple of small regrets about the things we chose to omit but I think rather this than regretting spending too much! We were very lucky that together with our parents contributions, we earned enough to pay for everything we wanted without getting into any debt.
Did you get married on a budget or are you planning to do so? Let me know your thrifty wedding tips in the comments.
Find out where I chose to spend more on the wedding in my previous post.