Matched Betting with existing accounts: How to make money
Last Updated on February 5, 2021 by Melissa S.


Matched betting with existing accounts

If you want to start matched betting with existing accounts, you may be dubious about how much money you can make, and you're not alone on that.
Very much like my eBay reselling journey, Matched Betting was something I quickly dismissed in my head as a means of making money for me.
Great – it was working for thousands of others, but the trouble was, I knew I couldn't make the same profits.
You might think that it was because I was dubious about how it worked, or that I wouldn't be able to understand it (the latter was kind of true), but the main reason was I already had lots of bookmaker accounts already, so my offers were already used up. (or so I thought….)
What is Matched Betting?
Put simply, Matched Betting is a way of covering all bases without the risk of gambling. This is because for every bet you make, (e.g. Man Utd to win against Liverpool), you can use a betting exchange such as Betfair or Smarkets to "lay" the bet, or bet against it.
It is not as simple as betting for Liverpool to win, as there may be a draw.
Instead we bet "Against" Man Utd. This covers the possibility of a loss or a draw all in one bet. Profit Accumulator includes a calculator that tells you exactly how much to bet and lay in order to ensure you don't lose any (or a very small amount) of money, whatever the outcome.
It is important to clarify that while matched betting is not gambling and does not involve anything like the same risk, it would be irresponsible to label it (or anything) as 100% risk free. There is always a small risk in making a matched betting mistake, so always ensure you are not using amounts of money you cannot afford to lose.
Although matched betting is not gambling I would not recommend it to anyone with a gambling problem.

How can you make money matched betting?
We make money using the free bets that bookies offer customers to either sign up or bet again with (reloads). If we have a £10 free bet to play with, we are using "free" money to make the bet. If we lay it to cover all results then we will definitely make a profit with our £10 free money.
We will either win money on the bookies' website, or we will win on the exchange and end up with more money than we started with. Laying the bet means you need to cover it with a larger amount of money than £10 (this is called your liability) again.
This is why you need to have some money available to "Invest" risk free into Matched Betting. I would recommend starting with £100-£200 but it could be done with as little as £60.
If this all sounds very complicated, you are not alone! It took me weeks of reading and watching tutorial videos before I was confident enough to place my first matched bet. But profit accumulator membership includes guides of how to complete each offer along with video tutorials.
You can also read my Beginner's Guide to Matched Betting here

Back to my story…
My husband first heard about matched betting a few years ago. At this time he worked from home so had more time to dedicate to it, and we had a newborn baby so I had no time or energy to even begin to understand it. He made around £1000 for us using sign up offers.
I was happy to let him to this without taking much notice – after all – we had a baby to look after, and once the easy sign up money stopped, so did he. I thought this was because there was a finite amount of money to be made and he had hit the ceiling with it.
So when I began to read posts about people making hundreds of pounds from matched betting, I quickly dismissed them as an option for myself as we'd already "used up" all our offers. It was only when I started to ask questions and leave comments for bloggers that I found out there was still plenty of money to be made each and every month!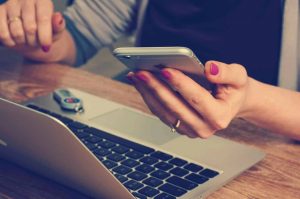 My husband was dubious about this as when he did matched betting originally he did it all off his own back rather than signing up to a site such as Outplayed, so he didn't have the time or the resources to find more offers.
Now he is the one with the time constraints and a much more demanding job so I knew if I wanted to prove myself right, I had to get on with it myself!
The trouble was, I already had a lot of the well known bookmaker accounts. Even though I am not really a big gambler or into sports, I do enjoy at day at the races and over the years I had signed up to take advantage of the sign up offers as a normal punter.
I now found myself doubly disadvantaged as I had very little gambling experience, even less interest in sports, and all the easy sign up offers that Outplayed suggest doing first were not options for me.
Thankfully I persevered and in my first month I made over £200. I know this could be achieved each and every month if I can put the time, effort and (risk free) money in, so I plan to make this one of my targets going forward.

In the meantime, here are my tips for anyone starting out matched betting with existing accounts. Maybe you are a gambler who is new to matched betting, or perhaps you signed up to bookies to get a cashback bonus from sites like TopCashback.
Whatever the situation, you can still make some money!
Do your matched betting research first
Watch video tutorials if you learn best visually (like me), read blog and forum posts about matched betting with existing accounts and decide if you think it is something you would be confident in doing.

New bookmakers appear regularly
Practice with the sign up offers that are available to you and build up your confidence and skills. In the time since my husband stopped matched betting, I found there were easily 10-15 new betting sites with sign up offers waiting for me.
Some of them may not have been as lucrative as the initial offers but there is still good money to be made, and you are gaining some practice in placing and laying the bets.
Move on to reload offers
I found this tricky as I didn't have the same amount of experience as most people moving onto this area, but once I got my head around the sign up offers, I moved on to the offers I could do easily.
These offers don't always look like you are going to make much from them (which is why my husband stopped at this point), but if you are consistently making around £5 per bet and doing 20+ per week then this money quickly adds up.
Use free spins and risk free offers
You might not feel confident enough to move on to the casino and bingo offers yet, however if you check the dashboard regularly there are often free spins that require no deposit.
There are also risk-free games to enter for free such as Sky Super 6. You can find out how to play sky super 6 here.
Use the forums or support groups to help with issues you can't get your head around.
Membership to Outplayed includes access to the forums and there are also free support groups on Facebook. I have asked many a "silly question" but also got lots of tips and help just reading other people's queries and the respective answers.

Don't be afraid of skipping some matched betting offers
Currently there is an offer on for one bookmakers to bet £300 and get £75 cash. Unfortunately I don't have the funds available for this at the moment, but it is one I hope to come back to when my pot is a bit bigger!

More time & effort = more money
There are plenty of posts out there that make it sound like Matched Betting money just falls into your lap with a few minutes work a day. This is simply not true – especially in the beginning. Just like any side hustle, the more time and effort you put in, the more money you will be able to make. Be prepared to put 1-2 hours a day in at the beginning – it will be worth it.
Want to get started matched betting with existing accounts? Sign up to Outplayed here. Even if you have already got accounts with the first 2 signup offers, you can still sign up for a free account to see how it works before deciding if you want to upgrade.
Other Matched Betting Posts You May Like:
Beginner's Guide To Matched Betting
Guide to Matched Betting at Cheltenham Festival
What to do if you make a Matched Betting Mistake
Matched Betting with Gubbed Accounts
I'm taking part in the Monday Money linky with Lynn from Mrs Mummy Penny and Faith from Much More With Less.