Being an eBay Reseller: How I made over £300 in my first 60 days
Last Updated on July 25, 2023 by Melissa S.
Being an eBay reseller isn't something I thought I would do to make money from home.
Like most people, I had dabbled as an eBay reseller in the past to get rid of various bits of clutter, but that was as far as it went. Generally my experiences as a seller had been ok (not amazing, due to the selling prices) but the amounts I was getting for some of my items just made me think it was pointless.
So when I read various blog posts about being a Ebay reseller, my first reaction was to let them pass me by. Good for them if they are making it work but I know it's not for me. But gradually over the next few weeks I began to think about what I had lying around the house that I could sell – after all, I was beginning to see every penny counts and why not get rid of some clutter that may otherwise depreciate in value?
Wondering what you could declutter to sell? Grab your free checklist!
I first got the "bug" again when I realised one of my old Nintendo DS games, Super Princess Peach, was rare and worth around £15, compared to other similar aged games worth £2 or £3. This got me wondering and researching what other games I owned that were unplayed for several years were worth. In turn this led to me checking what other items I owned that might be worth money.

You can read about the rest of my favourite ebay reseller sales here
As you can imagine, not all my sales have been this profitable but I was thrilled to make over £300 in my first 60 days as an eBay reseller ! I have since been visiting carboot sales and charity shops in the hopes of finding some bargains, but I don't want to fill my house with clutter, especially if it may not sell.
Here's some more eBay reselling profits from The Geordie Grandma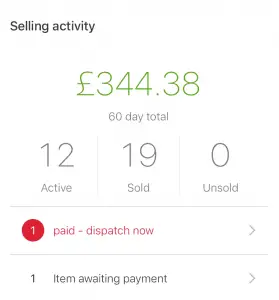 My Top eBay Reseller Tips
When I first started selling on eBay, I made lots of mistakes. It's inevitable, and definately part of the learning process. Here's what I've learned so far.
Have your smartphone to hand in the shop / bootsale to quickly look up selling prices
Obviously be subtle rather than standing right in front of someone's stall or dear old Marge on the tills. You can search for items on eBay and filter to "recently sold". This will give you a good guide of the selling price, but it only goes back 90 days.
This is very important as there will always be some chancer trying to sell something for 10 times the price – whether it sells or not for that amount is a different story!
Once home, you can do a bit more in depth research using eBay's built in price tracker Terapeak. Here, you can search sold listings going back 365 days. You can only access Terapeak on the full eBay site, not the app.
Read more about eBay price trackers here.

Check for any defect before you buy
It's the moment you have waited for – you've found a bargain and checked the price online and can make a tidy profit – your brain says Quick -buy it before someone else does!
But before you do, slow down and check the item carefully. If it's clothing, are there any rips or marks? Is it the genuine brand?
With computer games, check the discs for any scratches. In my experience, board games or puzzles should be sealed to guarantee profit, otherwise the selling price can plummet due to the potential for missing parts.
The Lego game I mentioned above was only going for around £6 unsealed as opposed to £40 sealed – thank goodness I never opened it!

Understand how eBay's fees work and take advantage of special offers
Fees now get taken automatically by eBay so the money that is transferred to your bank is all yours. However, eBay take around 12.8% which means this can be a considerable amount on larger items. If you sell something for £300, eBay will take almost £40 of this which is a big chunk!
However, there are regularly offers to sell for £1 max, or 80% off fees. This is definitely the best time to list more expensive items, so keep your eyes peeled for offers in your inbox or on the eBay platform.
Read more about the updated eBay payment system
If something seems too good to be true…it probably is
Here's a rookie mistake for you. It's a niche one, but nevertheless everyone can learn something from it.
In my game research frenzy I discovered that there was a rare Xbox game called OutRun 2006, selling for in excess of £70. I couldn't believe it when I saw an experienced eBay business account selling it for £6 – after all, they were a specialist games seller with 10,000+ feedback, so you would think they would know what they were doing. (This should have been my alarm bell – they did).
In my excitement on grabbing a bargain, I did a quick double check then decided to buy. I received the game and was very happy with it. It was only a couple of weeks later when trying to relist it that I realised my error – this was Outrun 2, not Outrun 2006!


The differences in the cover design were minute but the profit was very different! I still managed to sell it for £12 but I probably wouldn't have bothered for such a small profit margin after fees & postage.
 Want to sell clothes on eBay? Here's some more reselling advice from Katie Saves 
What could you sell on eBay?
Feeling inspired to start? Check what you have lying around – you may be pleasantly surprised what you have! And do let me know your eBay selling stories and tips in the comments!

About the Author
Melissa is a working parent who left behind a senior management salary for a better work/life balance. Following her own money saving and money making strategies she was able to clear debt and live a life she loves. Blogging, selling digital products on Etsy and selling preloved items on eBay are her favourite side hustles. Read her story here.
Other Posts You May Like
How to sell on eBay: complete Beginner's Guide
How I made over £1000 in 90 days selling old clutter on eBay
The best label printer for eBay sellers
Make money on eBay selling actual rubbish!
Five beginner tips for eBay sellers
What percentage of fees do eBay take?
I'm taking part in the Monday Money linky with Lynn from Mrs Mummy Penny, Faith from Much More With Less and Emma from EmmaDrew.Info