Last Updated on July 25, 2023 by Melissa S.
I have been selling on eBay for around 18 months now, prior to this I had dabbled in selling a few bits and bobs over the years, but more for decluttering rather than to make any sort of side income.
Although I do lookout for items in charity shops and carboot sales, some of my favourite sales so far have come from my old stuff that I had no idea was worth so much.
Super Princess Peach on the Nintendo DS
I have to include this because it was the item that made the penny drop for me and got me into sourcing to resell. I had listed my old Nintendo DS because I had a new one along with a bundle of games I didn't play.
I think I put the whole lot on for £20 and got an offer for just the games pretty quickly. My husband said to double check what the games were going for on their own, most were £1.99 but then I realised the Princess Peach game was classed as rare and could fetch over £20!
Needless to say I rejected the offer and sold the game alone for £18. After that I was hooked on the idea of finding rare computer games! This definitely makes it one of my favourite eBay sales.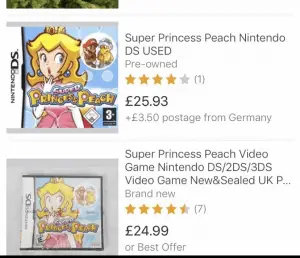 Old 35mm Olympus camera – £99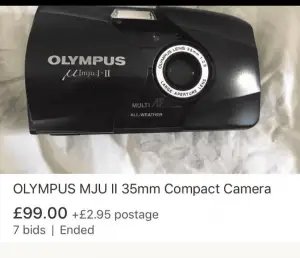 I had an old 35mm camera sitting around in a drawer, unused for probably 15+ years. It easily could have ended up in a charity shop but when I checked sold listing on ebay I realised it was a desirable model with the 35mm hipsters and ended up going for £99! This is one of my favourite ebay sales for this reason.
I had so many lowball offers from people who obviously thought I didn't know the value, so watch out for this and always make sure you check the sold listings.
Nintendo trading cards – £80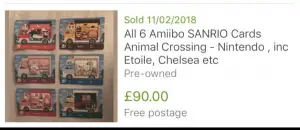 I bought some limited edition Animal Crossing trading cards for £4.99 in 2016. They were online order only from Nintendo and limited to 1 per customer.
The cards are amiibo enabled and allow exclusive characters and furniture into your game. I used the cards for their required in-game purpose and then they went into an album with other cards.
When I started reselling I looked up the sold listing price and realised they were going for £80 for the set of 6 just over a year later! As much as I would have liked to have kept the cards, I decided I would rather have the £80 so they were sold.
2021 Update: Nintendo re-released the cards for Animal Crossing: New Horizons for £4.99 so I was able to buy them back to keep!
1976 annual – £18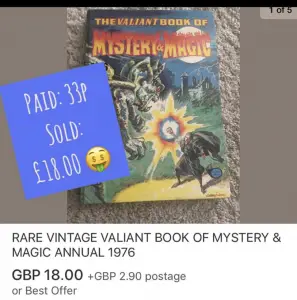 I found this book in the community centre where my daughter has dance lessons, they have a big pile of donated books and DVDs and the going rate is 3 for £1.
While she is in the lesson I have chance to browse the shelves and check eBay prices and I have found quite a few flips but this is my best – after paying 33p I sold this book for £18.00!
GU glass pudding ramekins – 12 for £7.50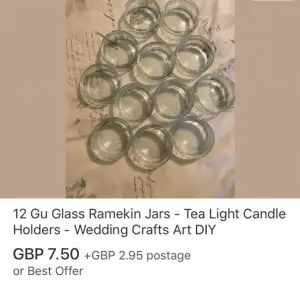 Not the most exciting items, not a massive amount of money, but these were cluttering up my kitchen cupboard because they couldn't be recycled and I didn't want to throw them away into landfill.
Literally money for nothing, which is what makes it a favourite eBay sale! I can also buy the puddings with a bit less guilt now knowing I will eventually get some cashback on them!
Read more about selling recycling & rubbish on eBay here
Beastie Boys Magazines £25 – £35 each (3 sold)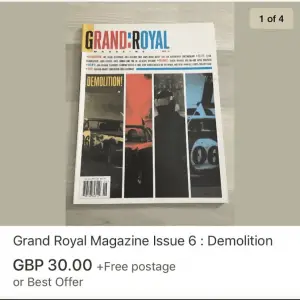 My former self was very much a collector, and in the 90s pre internet I remember being desperate to get my hands on these magazines as I was a big fan.
I can't remember where I got them, I think I might have had them delivered on a subscription but anyway I kept them pristinely and probably never read most of them other than a quick look through.
Thanks to their pristine condition I was able to sell them on Buy it Now for between £25 and £35 each. They took a while to sell and I had lowered the price in £5 increments but then someone came along and snapped up all 3 at once! Chaching!
Want to get started selling on eBay? Read my beginner's tips here
Various CDs
We tend to think of CDs and DVDs as landfill fodder at this point don't we? At some point, everyone over a certain age has probably had a clear out of their CD collection, whether that has meant packing it away in the loft, donating it to a charity shop or trying to scrape together a few pennies by selling them to a service such as Music Magpie.
However, I have had a lot of success with selling some of my rarer CDs for upwards of £10 or even £20! Obviously this depends on the titles you own or what you can find in charity shops, as there are still a lot of discs that would only be worth 10p or so. This post goes into detail about selling CDs on eBay and the specific things to look out for.
Sky TV Receiver Box – £28.20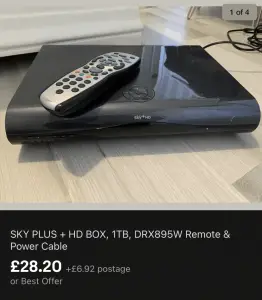 My husband has an annoying habit of putting old tech items such as this in the loft "just in case"…and then 15 years go by and surprise surprise, it's now just an old piece of junk that needs taking to the local recycling centre.
This is the sort of clutter that seems to weigh me down mentally until I can get rid of it as it is completely useless to us, but not so easily disposed of. It is also the type of item that I loathe to list – it's bulky, costs a lot to post and requires more effort to lug to the post office. In short, this could have easily just been chucked in a skip.
However, I actually have the Covid lockdown to thank for this sale. Not only was our local council recycling centre (i.e. "the tip") closed indefinitely, but eBay were offering half price Packlink postage and home parcel pick up at no extra cost. This forced me to make the effort to list this and similar bulky items, and actually led to me making well over £1000 on eBay during Oct-Dec 2020!
Empty Nintendo DS Box – £12.50

Again, this item is not an amazing amount of money, BUT IT'S AN EMPTY BOX!! I sold the console several months before assuming the box was long gone, and then found it in the loft. After checking the sold listings I realised there was some demand for this, as anyone buying a used console as a gift may want a box for it.
Similarly, resellers who pick up unboxed items at charity shops and car boot sales will fetch a higher price if they can box the item up. So, if you think you have any unwanted console boxes in the loft, it may be worth checking out recent sold listings.
Lego City Game – £45
I got this sealed Lego Game in a tombola at a summer fair for about 50p. At the time, I had no kids, but I was a primary school teacher so I decided to keep the game (thankfully sealed) to see if it would become any use for a school project. It remained unused in a cupboard for a few years. When I got into eBay selling, my eyes almost popped out when I saw how much it was now worth!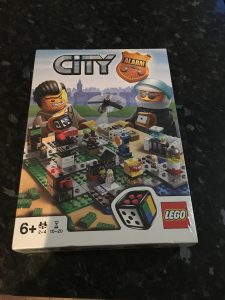 The thing with Lego is it is very collectible, and any discontinued sets can fetch big money, especially if they are in a sealed condition. Added to that was the rarity of this item – it was a type of board game made out of Lego, and obviously did not sell very well at the time so the product was short lived. This was another of those sales that made me think you just don't know the value of your "junk" until you start looking!
What could you sell on eBay?
I hope you have enjoyed reading my top 10 favourite eBay sales. Obviously you can't rush out to try and find the same items (unless you're super lucky!) but I hope this post has inspired you to think about the unused items you already have that could be worth a lot more than you think.
Do let me know in the comments if you have any amazing eBay sales, and in the meantime, you might like some of my related eBay content:

About the Author
Melissa is a working parent who left behind a senior management salary for a better work/life balance. Following her own money saving and money making strategies she was able to clear debt and live a life she loves. Blogging, selling digital products on Etsy and selling preloved items on eBay are her favourite side hustles. Read her story here.
Insanely easy eBay seller tips
Make money on eBay selling junk!
How I made over £1000 in 90 days on eBay
Is it worth selling CDs on eBay in 2023?

About the Author
Melissa is a working parent who left behind a senior management salary for a better work/life balance. Following her own money saving and money making strategies she was able to clear debt and live a life she loves. Blogging, selling digital products on Etsy and selling preloved items on eBay are her favourite side hustles. Read her story here.