Is A Readybed Good Value for money?
Last Updated on February 10, 2023 by Melissa S.
When you first have a baby, the sheer amount of paraphernalia you have to cart around with you is just overwhelming, and more so if you happen to be staying the night elsewhere (note – camping with a 1 year old is even less fun than it sounds).

However, after a while it becomes second nature, and suddenly you actually begin to miss some of the items that are outgrown – they have become your safety blanket.
Our travel cot was great, for example – it folded up into a small rectangular package and literally provided a bed wherever we were – a great help especially if an extra bed is not available.
So, when my daughter inevitably grew out of the travel cot it posed a problem, especially when staying with my parents across the country who did not have a spare bed for my daughter.
I began to consider options a few months ago and came across the Readybed. They looked great value for money, but the reviews were a bit mixed so I decided not to commit in case I found something better.
A few months later having not been able to find anything similar price-wise, I decided to bite the bullet and buy one. I was lucky that the design I chose was reduced to a great price (at the time) whereas other designs were as much as £20 more expensive .
As the reviews I have seen continue to be so mixed I thought I would offer my opinion on the Readybed.
What is a Readybed?
A readybed is basically a sleeping bag and airbed in one designed for children aged 3 -7. It comprises an inflatable rubber airbed with removable, washable polyester covers attached.
The child is zipped into the bed in a similar manner to a sleeping bag. The whole thing can then be deflated and contained within itself as a portable carry bag.
A smaller sized "My first readybed" is also available for toddlers. I would say stick to the travel cot if possible at that age and then go straight for the larger size to ensure longevity.
It was partly for this reason that I didn't go for a Peppa Pig themed design, it is flavour of the month with my 3-year-old right now but I can't imagine she'd be too thrilled with it in a few years.
What age is a Readybed for?
A Readybed is for a suggested age of 3-7 years, while the Readybed Junior or My First Readybed is for 18 months – 3 years. This is slightly smaller and has side supports to prevent rolling out. It is not recommended to use an airbed with children 15 months or younger.
What size is a Readybed?
The standard Readybed is 150cm L x 62cm W x 23cm D.
The Readybed Junior / My First Readybed is 130cm L x 61cm W x 17cm D.
How do you inflate a Readybed?
A small foot pump is included which is handy, although very flimsy looking and as I had an electric air pump I used that instead.
There is a small valve for inflation which then pulls away to leave a large hole which makes it much easier and quicker to deflate again. Instructions and a puncture repair kit are also included.
Topcashback Exclusive New Member Offers
Save money on your Readybed and more at selected retailers with Topcashback. New members can get up to £10 Cashback with these offers:
Latest TopCashBack New Member Offers:



Can You Wash A Readybed?
Yes – the covers are fully detachable can can be washed on a delicate cycle. The material is similar to that of a sleeping bag, so a silky finish as opposed to the feel of a cotton duvet cover.
Readybed Design and ease of use – 9/10
The bed cleverly rolls up into itself when deflated to form a handy little bag which takes up very little space when storing or travelling. There is also a hole through to the valve in the covers so the airbed can be inflated with the covers attached.
I must say also never underestimate the power of a character branded item – a couple of years ago I was determined that I wouldn't be suckered into paying more for something just because it featured Mickey Mouse or Peppa Pig – however the reality is if your child is excited by the presence of their favourite character it can make negotiations around using the said item a whole lot easier!
My daughter was so excited that she wanted to get in bed at 4pm!
Needless to say, having her looking forward to using it was a definite bonus. The covers are bright and colourful and easily come away from the airbed mattress to be washed.

Readybed Comfort 7/10
I was initially quite worried as some of the reviews had stated the airbed deflated quite drastically overnight and a couple of incidents of punctures on the first use. However, in the 2 nights it was used it did not deflate at all and was still firm and comfortable.
The product description states it has a built-in pillow but I would not say it was prominent enough to be used if your child is used to their own pillow. Luckily, I had brought my own from home which worked fine.
I had also brought the duvet from home as one review stated the covers were very thin and not warm enough. They were thin and resembled a sleeping bag but my daughter was fine with just this and refused the duvet, but it is something I would bear in mind especially for camping outdoors.
My daughter slept very well both nights except for two incidents. On the first night I woke up to hear crying on the monitor so thought I better investigate. It was a good job I did as I found her flipped face down on the floor still zipped up inside the readybed!
The bed was on a wooden floor in a separate room to myself and as the covers are quite silky I think she had turned over and the whole bed flipped with her.
She was not in any danger but obviously not ideal. I moved the bed into the carpeted room where I was sleeping and she settled down quickly. The bed, it is worth noting, is very easy and light to move in such a situation.
The second night on the carpeted floor by chance I woke up and looked down doing a double take as I could not see my daughter in the bed.
This time she had turned over and instead of the bed going with her, she had rolled out completely and was now faceplanted into the side of my bed!
By some miracle she didn't wake up and I managed to lift her back in where she slept until morning without further incident. I think these points are worth noting if you have a fidgety sleeper.
Update: The Readybed has since been used by my 3 year old niece when staying at our house in my daughter's room. I was conscious of the falling out/flipping over issues, however she slept fine with no issues at all. So I think my daughter takes after me and can't keep still!
Summary
Readybed Pros:
Easy to inflate & deflate

Good value for money

Light & portable

Did not deflate

Folds up into a handy bag – very easy to transport and store

Bright & appealing with a range of branded characters

Detachable and washable covers

Foot pump included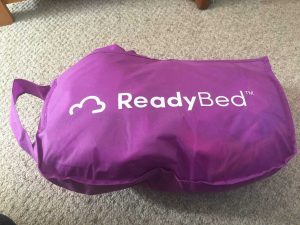 Readybed Cons
Additional pillow could be needed

Covers very thin and extra duvet could be needed for camping / cold nights

Foot pump supplied not very sturdy

Fidgets may fall out!

Beware of bed slipping on laminate flooring
Overall – 7/10 – For the price, this is a great choice for camping, sleepovers and weekends away. It is very easy to store and take on your travels and in my experience, did not deflate. Despite the bed flipping over I would definitely recommend it.
Readybed alternatives
I don't have personal experience of these products but they all have 4 star or higher ratings on Amazon as of April 2022. If you're looking for a Readybed alternative, these suggestions could be a good place to start.
Kampa Airlock Junior Airbed – This airbed has indented sides to prevent rolling out.
Ready Steady Bed Kids Fold Out Sofa Bed – The clever design of this fold out bed means it can be used as a chair when not in use. This would be great if you're looking for a guestbed to stay in one place, such as at a grandparent's house or for your own young guests, but not as easy to transport or use for camping.

About the Author
Melissa is a working parent who left behind a senior management salary for a better work/life balance. Following her own money saving and money making strategies she was able to clear debt and live a life she loves. Blogging, selling digital products on Etsy and selling preloved items on eBay are her favourite side hustles. Read her story here.
Please note – this article contains affiliate links but all opinions are my own. I have not been approached to do a review or sponsored post, this was a purchase I made through my own choice.
You May Also Like:
Kids Pass App review: Save Money on Family Days Out
Budget Friendly School Holiday Ideas
22 Thrifty Halloween Ideas for Kids
How We Bought a Playground With Pocket Money