Please note that some of this post's links are affiliate links, which means if you click through and make a purchase, I may receive a small commission at no extra cost to you. SkinnySpending.co.uk is a participant in the Amazon Services LLC Associates Program, an affiliate advertising program designed to provide a means to earn fees by linking to Amazon.com and affiliated sites.
Last Updated on September 10, 2021 by Melissa S.
One of my most popular posts is the ways I save money on my grocery shop, because people are always surprised to discover just how little we spend on food without making much of a sacrifice about what we want to buy.
With that in mind, I wanted to share what we do at Christmas, as the rules do change a bit!
If you haven't read my original grocery post, my key to my spending less is definitely only doing one big shop per month. I cook 80% of meals from scratch and only buy the odd processed thing such as ready made pies or fish fingers.
I top up fresh fruit and veg once every 2 weeks in the middle, and make very good use of the freezer for batch cooking fresh veg into dishes, and also for freezing items such as extra loaves of bread.
We have milk delivered by the milkman which might be more expensive than the supermarket, but it beats the petrol and time costs of having to pop in the shops every couple of days and ending up coming away with another £5-£10 of items you just happen to pick up.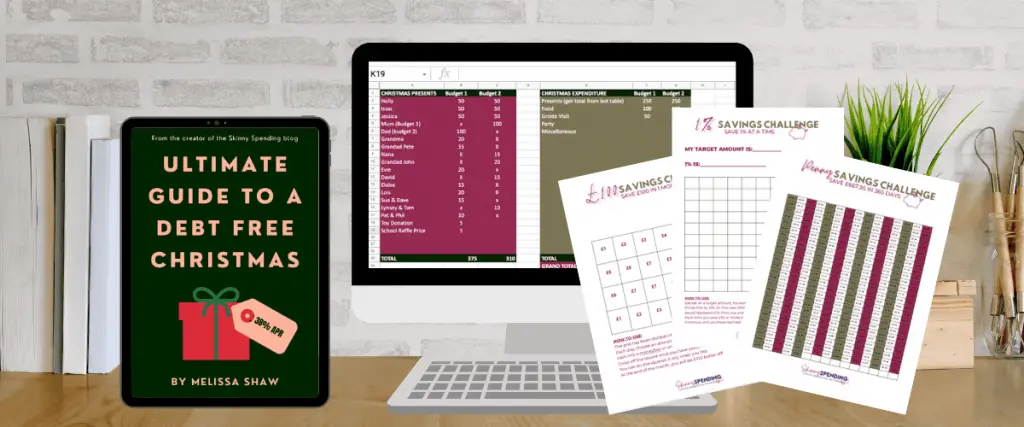 WANT TO TAKE THE STRESS AND THE DEBT OUT OF CHRISTMAS FOR GOOD?
With my comprehensive Ultimate Guide To A Debt Free Christmas e-book and budgeting system, you can say goodbye to the stresses and spiralling expense of Christmas.
But, I digress. Because of the way we shop, it has always been a tradition of ours to go a bit crazy in December and literally buy whatever we fancy: luxury mince pies, smoked salmon, Baileys…why not, it's Christmas after all!
Our budget usually rises from around £100 for the month to £200, which I don't mind as it is budgeted for and I know many people spend this amount or more every month anyway.
However, in the past we have definitely seen food wasted because we have either bought too much, or not checked the use by dates carefully. This year I am determined to cut the waste, save money and spread the cost with the following tips to budget your Christmas food shop.
After all, noone wants to be staring at a box of unopened mince pies on January 3rd….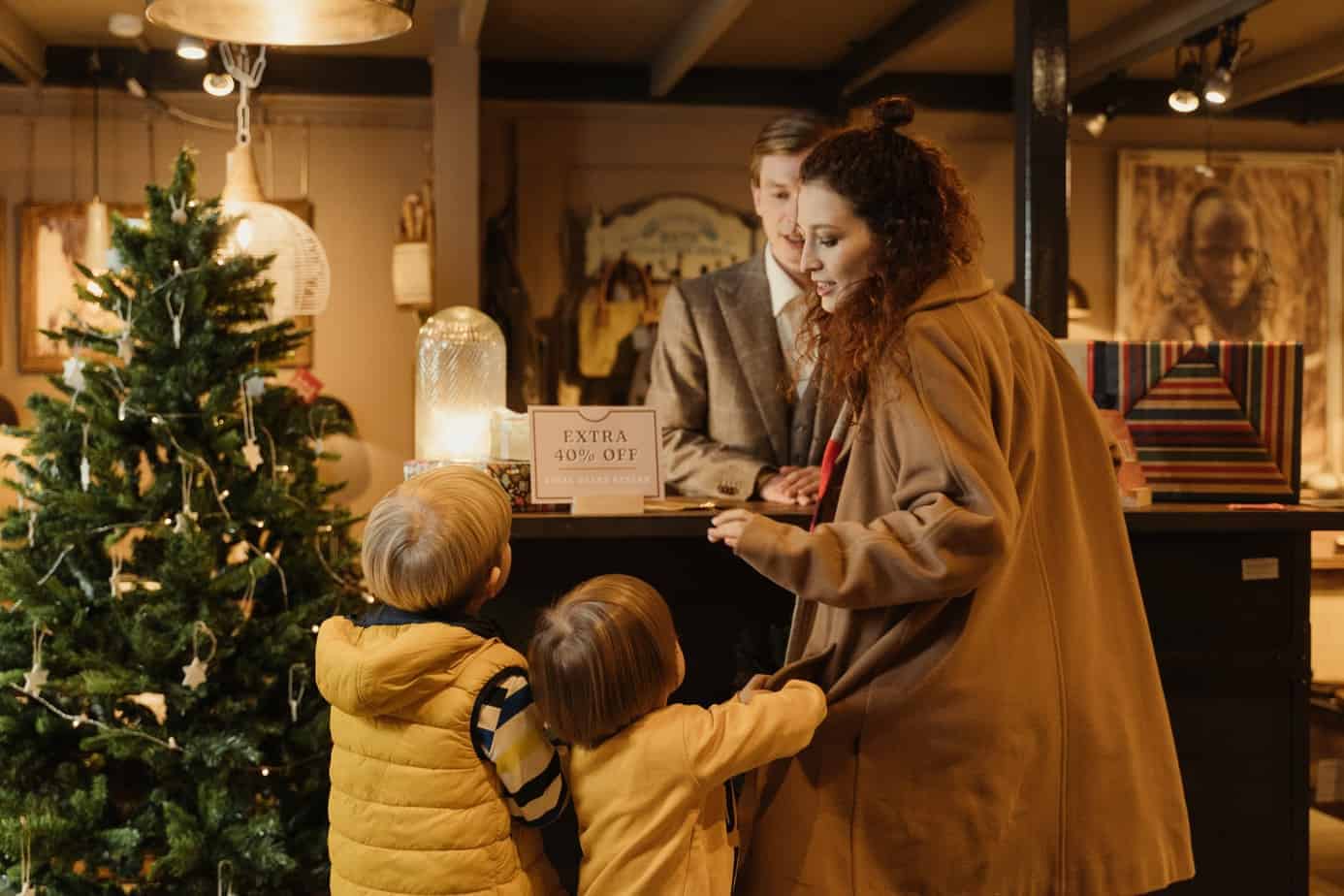 Write a list of all the extra groceries you need for Christmas
A list is essential to budget your Christmas food shop effectively. It might seem like a chore, but once you have identified the items you wouldn't normally buy, it can be easier to work out how much extra it is going to cost. It is also a good way of getting organised and ensuring nothing is forgotten.
If you are hosting Christmas dinner or a buffet party, the extras can definitely mount up! Exclude any gift items you are buying from the supermarket such as boxes of biscuits or fizz, just focus on what you are buying for your own household.
Identify the non- perishables that can be bought well in advance
Anything that is not in danger of going out of date before the big day such as alcohol, biscuits, crisps, sweets, chocolates etc, can be bought as soon as the supermarkets begin to stock it (which is usually pre Halloween these days!).
I have already begun to do this, picking up bottles of Prosecco and my husband's favourite M&S biscuits when I have seen them. This has helped budget the Christmas food shop by spreading the cost over a few weeks and once I have got an item, I can tick it off my list. If you shop weekly, you could pick up a few extras each week.
The only danger of course is ensuring the rest of the family don't start opening things reserved for Christmas! If this is going to be a problem in your house, consider stashing things away as you would the presents!
Look at your social calendar and meal plan accordingly
Christmas is a time where everyone goes a bit off timetable and that includes eating regular meals at set times! We like to get buffet style food in for this such as pate, pork pies, coleslaw and cheese.
However, all of these items have very short use by dates and in the past we have bought them and then not had chance to open some before they had gone off, because we hadn't thought about our social events and when we would actually be eating at home.
If you know you've got a Christmas party or a children's Christmas experience and you are likely to end up eating out on those days, think carefully about how much of the extras you actually need. Factor in when you are likely to have a takeaway and when you might actually want a proper cooked meal, and plan how much you need to buy accordingly.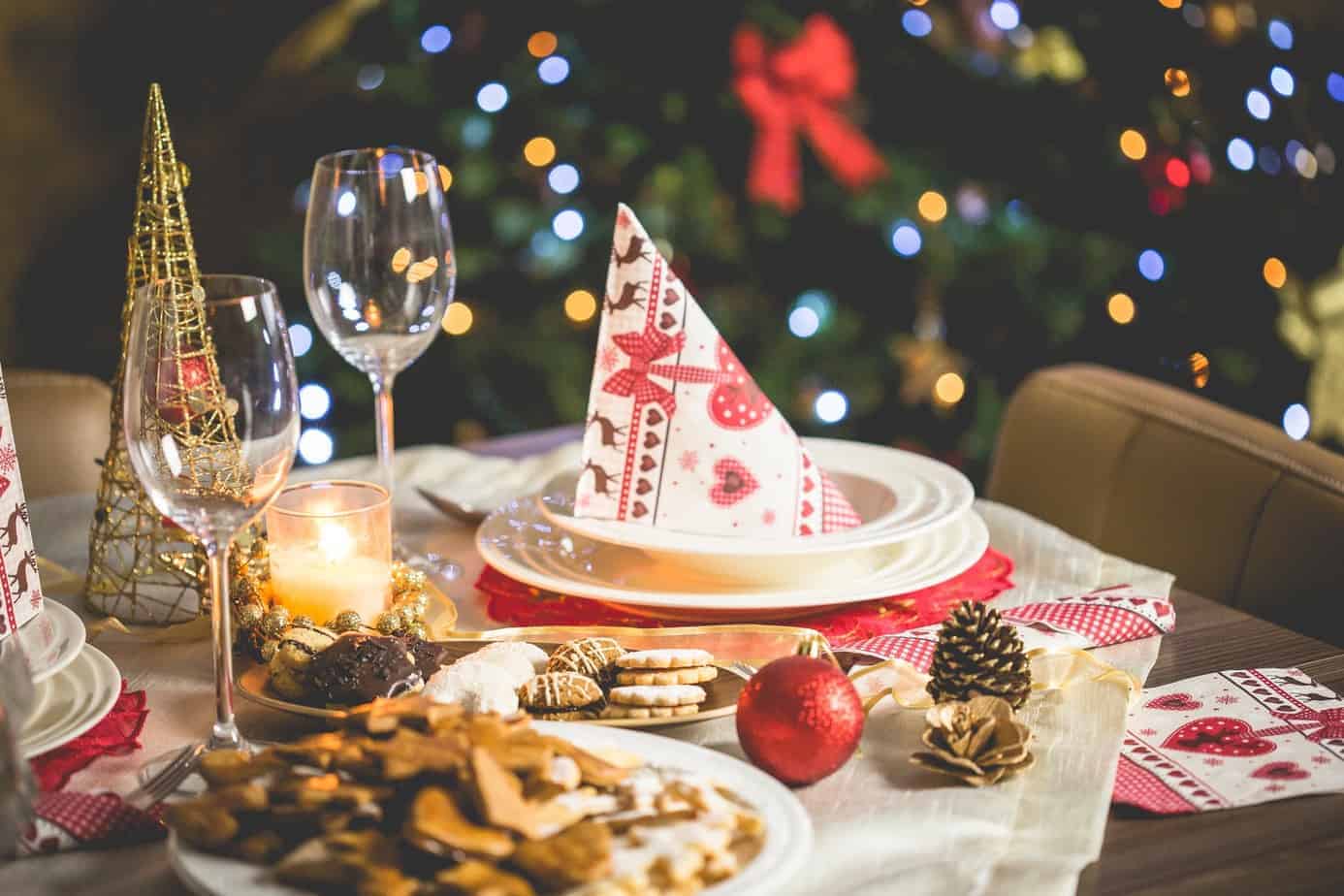 Get the majority of your groceries by mid December (excluding the highly perishable items)
Following these tips, whether you shop weekly, monthly or somewhere in between, my aim is to get everything I can in my monthly shop in mid December. This will include items such as mince pies that should have a sell by date in December to last into the new year, freezer platters of party food, as well as all my usual essentials.
Because I have spread the cost of some of the extras, the bill should hopefully be a bit less than usual.
Brave the supermarket pre-Christmas for your perishables only!
Noone likes the thought of going to the supermarket in the days before Christmas, but if you need items such as vegetables for your Christmas dinner then you might have no choice.
Of course, if you have already got the majority of your items then it can hopefully be a quick run around. My top tip is to ensure you check the use by dates on these items – I have fallen foul of this before and got dips for a boxing day party that were use by Christmas Eve!
There is obviously the option of online shopping, but I have to say I'm not a fan of it at Christmas. The slots get booked up rapidly and you are at the mercy of someone else picking out your items, not to mention ending up with endless substitutions when you may have found a better alternative in store yourself. Double cream that expires on 24th December? No thanks!
I have to say having done this several years in a row, it is never as bad as you might fear. The stock levels are usually good as obviously the supermarkets do prepare for this. We tend to go on around the 21st-22nd December for 9am and treat ourselves to breakfast in the café afterwards to make it more of an occasion.
Do you budget the Christmas food shop differently to the rest of the year? Does it lead to food waste? Let me know in the comments below.
Related posts you may also like
Product: Ultimate Guide To A Debt Free Christmas
How I save for Christmas Without Even Noticing!
How I saved £250 on my Christmas shopping
Six Things I Stopped Buying To Save Money At Christmas