Sell junk on eBay to make money!
Last Updated on July 25, 2023 by Melissa S.
Can you actually sell junk on eBay?
If you're wondering if you can sell "junk" on eBay, you might be surprised at the answer. You might be thinking, eBay is full of people's old junk, so when I say sell junk on eBay, I am talking literal rubbish that would have otherwise got thrown away!
Items I would have previously have thrown into the recycle bin, or even the rubbish bin can actually make you money on eBay!
How many of these items could you make some money from that you might have otherwise thrown away?
Empty Spirit Bottles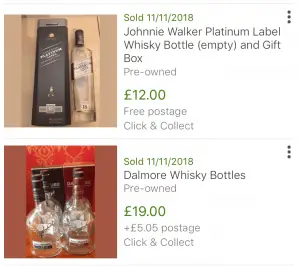 I was amazed when I saw the sold listings prices on some of these! It seems they are popular with crafters and the more unusual / collectable the bottle, the higher the price.
I haven't listed any yet as I don't really get though that many bottles of spirits, but I do have a Tequila Rose bottle that is almost empty.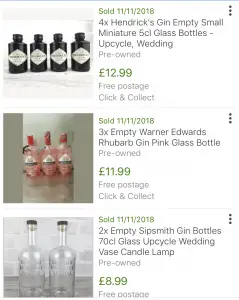 This could be a great money spinner after a house party! Especially for something I would normally be putting straight in the recycling.
Plastic Kinder Egg Shells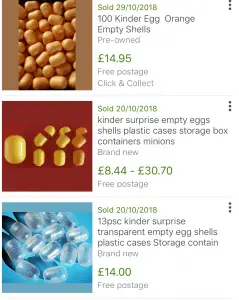 Now this is actual junk! Anyone with young children probably has a boatload of these cluttering up the bottom of the toybox and in various drawers around the house.
They are one of those items that I always felt bad about throwing away because it was such a lot of plastic waste, but they don't really serve any purpose.
After I saw a demand for them online I collect them up in a carrier bag from around the house. You're not going to make a fortune from these unless you have hundreds but I would rather sell for a couple of pounds than let them become landfill.
Branded gift bags and boxes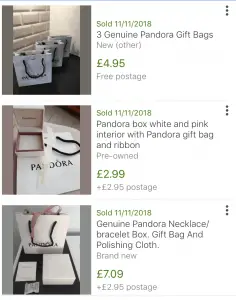 Again, this isn't going to make you a millionaire but it's more a case of repurposing something rather than it being thrown away. I always end up keeping little gift bags and boxes because they seem too nice to throw, but then they gather dust serving no purpose until I decide enough is enough and bin them.
I recently sold 2 Pandora gift bags and boxes for £3.50 plus postage – as this screen shot shows they can go for more but I was just happy to declutter.
Big Box VHS video tapes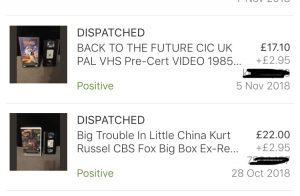 I should clarify – this isn't just any old tapes but if you still have some knocking around it's worth checking on eBay what the going rate is.
Big box ex-rental tapes are highly collectable and I sold this Big Trouble In Little China tape for £22.00 plus postage within 48 hours of listing, and a Back to The Future tape for £17.10 within a week.
We threw loads of VHS tapes away several years ago – most of them would not have been worth anything but I still wonder if there were any other hidden gems like this that ended up in the wheelie bin.
GU Glass Ramekins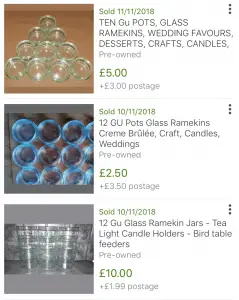 This is another item that I always kept hold of after use but for no real purpose. After a recent declutter I found 15 of these stacked up at the back of a cupboard! We rarely buy these desserts unless on offer (of course!) so I estimate this is at least 2 or 3 years' worth!
A quick search of sold listings reveals that they are a popular item for craft and wedding DIY. Selling in bundles of 10 or 12 seems to work best.
I managed to sell 12 for £10.50 plus p&p and will continue to save them and bundle together in this way.
Again, this isn't about making a fortune but I could easily have purged the lot after a declutter and I feel so much better knowing something is getting repurposed – and making a few pounds in the process.
Branded Shopping bags from "high end" high street stores



Obviously the more high end the brand, the more in demand they are with designer bags fetching the most, but a quick sold listings search reveals high end high street shops such as Ted Baker, Hollister and Victoria's Secret are popular too.
So the next time you treat yourself see if you can get a couple of quid back off your purchase by selling the packaging!
Old electricals and cables
This is another "kitchen mess drawer" item that could easily get purged in a declutter. Old phone chargers, cables and outdated gadgets all can fetch a price. For example, someone might discover an old games console in the loft but with no power lead. If the console is long out of production, Ebay could be one chance they have to get the compatible wires so prices can reflect this.
I recently sold my old 35mm camera – again an item I didn't want to throw away but it had sat unused in a drawer for 15 years. It turned out to be a highly collectible model and went for £99.00. Luckily, I had researched the price before listing so when people tried to low ball me (I had repeated offers for around £15) I knew its value.
What could you sell on eBay?
Has this post made you jump up and start searching through your cupboards to sell junk on eBay? What "rubbish" do you have that you think might be worth selling – or is there anything else you could add to my list? Let me know in the comments!

About the Author
Melissa is a working parent who left behind a senior management salary for a better work/life balance. Following her own money saving and money making strategies she was able to clear debt and live a life she loves. Blogging, selling digital products on Etsy and selling preloved items on eBay are her favourite side hustles. Read her story here.
Other eBay Posts You May Like:
How to sell on eBay: Complete beginner's guide
The eBay payment system: what you need to know
Insanely easy eBay seller tips
How I made over £1000 in 90 days on eBay